A Mighty Heart
(2007)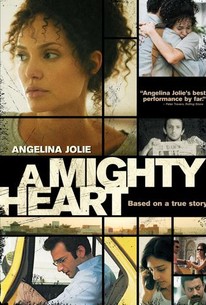 TOMATOMETER
AUDIENCE SCORE
Critic Consensus: Angelina Jolie conveys the full emotional range of a woman in a desperate situation in A Mighty Heart, an urgent yet tactful film about a difficult subject.
Movie Info
On Jan. 23, 2002, Mariane Pearl's world changed forever. Her husband Daniel, South Asia bureau chief for the Wall Street Journal, was researching a story on shoe bomber Richard Reid. The story drew them to Karachi where a go-between had promised access to an elusive source. As Danny left for the meeting, he told Mariane he might be late for dinner. He never returned. In the face of death, Danny's spirit of defiance and his unflinching belief in the power of journalism led Mariane to write about his disappearance, the intense effort to find him and his eventual murder in her memoir "A Mighty Heart: The Brave Life and Death of My Husband Danny Pearl." Six months pregnant when the ordeal began, she was carrying a son that Danny hoped to name Adam. She wrote the book to introduce Adam to the father he would never meet. Transcending religion, race and nationality, Mariane's courageous desire to rise above the bitterness and hatred that continues to plague this post 9/11 world, serves as the purest expression of the joy of life she and Danny shared.
News & Interviews for A Mighty Heart
Critic Reviews for A Mighty Heart
Audience Reviews for A Mighty Heart
I really liked the fact that they kept it as real to life as possible and I believed that this had happened; although on a downside it made the film rather slow at times. Also I found it difficult to keep up with what was happening when there were several similar looking men pacing around and talking in a foreign language with no subtitles, it was difficult to figure out what was happening. Jolie gave a fantastic performance and I believed her as Mariane. It was heartbreaking to see her pain at finding out about her husbands execution. It did seem a bit strange however that she remained focused and in control of her emotions for the rest of the time after his death. I don't know if that was true of the real Mariane or not, but it is strange.
Sophie Burgess
Super Reviewer
½
More thrilling - and much less weepy - than I expected, and a film in which Angelina Jolie carries out her role incredibly naturally, save for one scene, when the drama's at its highest, where she goes over the top. On the whole, A Mighty Heart was a surprise: an accessible adaptation of a difficult-to-understand true story that was helped along by decent performances from a group of relative unknowns. Worth seeing once.
Daniel Perry
Super Reviewer
This is the true story of the kidnapping and murder of Daniel Pearl, American journalist in Pakistan after 9/11. His widow, Mariane (also a journalist), wrote her memoirs of the event and is convincingly played by Angelina Jolie,(who i believe gave an outstanding performance). Even though we all know how things turn out, the movie is gripping early on and is worth seeing ~!
A Mighty Heart Quotes
There are no approved quotes yet for this movie.