The Mighty Quinn
(1989)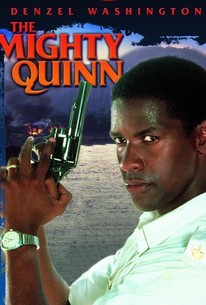 Movie Info
On a small Caribbean island, police chief Xavier Quinn investigates a murder where the prime suspect is Maubee, a charming local troublemaker and Quinn's childhood friend. As Quinn investigates further, the case proves to be more complex than it appears in this often comic mystery loaded with local color.
News & Interviews for The Mighty Quinn
Critic Reviews for The Mighty Quinn
Audience Reviews for The Mighty Quinn
I really enjoyed watching "The Mighty Quinn". The picture is very well directed and well casted. Denzel Washington plays a West Indies chief Xavier Quinn (cool name) handling a murder case and is facing a problem since his good friend Maubee (Robert Townsend) may have been involved. Filmmaker Carl Schenkel has a real feel of the Carribean culture, the music and the characters. I admired the small relationship between Washington and Mimi Rogers since they both reminded me of Walter Neff and Phyllis Dietrichson. "The Mighty Quinn" is one of those great drama thrillers like Arthur Penn's "Night Moves" where you got a very smooth, handsome main character all caught up in a plot that will eventually get in way over his head. In this case it would be Xavier Quinn. For a low budget picture drama, this movie sure puts a badly big budget film to shame.
The smooth and charming Denzel Washington plays a Caribbean cop investigating a murder that his childhood friend Maubee (Robert Townsend) may be implicated in. Townsend plays the role of a carefree individual who does just what he pleases and mostly the wrong side of the law and is constantly laughing at strait laced Xavier Quinn who is not taking crap from the rich white folks that want him to look the other side. Mimi Rogers is convincing as a damsel in distress and Sheryl Lee Ralph showcases her talents as both an actress and a singer while Robert Townsend, steals the show as the cheerfully irresponsible "victim of circumstances". Great location, wonderful reggae music; we also get to see Denzil strutting his stuff on the piano; now if you can just ignore the phony Jamaican accents, you'll enjoy this one a whole lot more!
½
Very entertaining, good performances by Townsend and Washington. Good ending.
Chosen 718
Super Reviewer
The Mighty Quinn Quotes
There are no approved quotes yet for this movie.