The Milagro Beanfield War
(1988)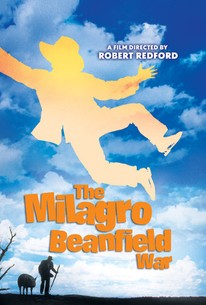 TOMATOMETER
AUDIENCE SCORE
Critic Consensus: Arguably Robert Redford's most inchoate work, The Milagro Beanfield War has plenty of beautiful moments, but they don't quite add up to a worthwhile whole.
The Milagro Beanfield War Photos
Movie Info
It's advisable to know from the beginning of The Milagro Beanfield War that "milagro" is the Spanish word for "miracle." The scene is a rundown Hispanic community in New Mexico, bordering a posh housing development. In full control of the local water rights, the powers-that-be are secure in the belief that they'll be able to expand their development without resistance from the locals. No one can foresee that impoverished farmer Joe Mondragon (Chick Vennera), during a burst of frustrated rage, will accidentally open a heretofore hidden sluice, thereby providing free water for his bean field. At first, the locals are against Mondragon's "insurrection," reasoning that the new housing development will provide jobs. But with the help of Charlie Bloom (John Heard), a burned-out '60s activist who now runs the community newspaper, Mondragon becomes the hero of the hour, the spiritual leader of an ever-growing "no development" movement. The evil land developers send their minions to intimidate or coerce Mondragon; each time, however, he is seemingly protected from harm by divine intervention. When Mondragon is forced to shoot a trespasser on his land, it looks as though his luck has run out. Chased into the hills by private detective Kyril Montana (Christopher Walken), Mondragon is once more rescued in the nick of time by what appears to be a miracle. And there are more wonders to behold before fade-out time! Whimsical, yes, but thanks to its hand-picked ensemble cast (including Sonia Braga, Rubén Blades, James Gammon, Daniel Stern, Freddy Fender, M. Emmet Walsh, and Melanie Griffith) the film remains totally credible throughout. Adapted by John Nichols and David Ward from Nichols' own novel, The Milagro Beanfield War may be the most likeable "liberal-tract" film of the 1980s. Robert Redford's appropriately Capraesque direction is matched by Dave Grusin's vibrant Oscar-winning musical score.
Critic Reviews for The Milagro Beanfield War
Audience Reviews for The Milagro Beanfield War
½
Preachy but well acted. Redford at times is more concentrated on the message rather than allowing the film to put that forward naturally.
John Ballantine
Super Reviewer
Great movie by Robert Redford, Sonia Braga is phenomenal!
The Milagro Beanfield War Quotes
There are no approved quotes yet for this movie.