Miles Ahead
(2016)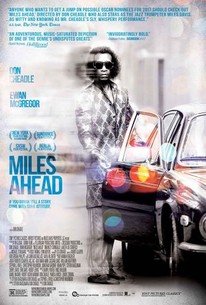 TOMATOMETER
AUDIENCE SCORE
Critic Consensus: Miles Ahead is worth watching for Don Cheadle's strong work on both sides of the camera, even if this unconventional biopic doesn't quite capture its subject's timeless appeal.
Movie Info
MILES AHEAD is not just about the music. It's about what we all face at one time or another in our lives; questions about who we really are, what we have to say and how will we say it. How will we ultimately be defined and who gets to say so? -- (C) Official Site
News & Interviews for Miles Ahead
Critic Reviews for Miles Ahead
Audience Reviews for Miles Ahead
½
Miles Ahead is a biopic starring Don Cheadle as famous "social music" trumpeter Miles Davis. I use the term "biopic" loosely for this movie because it's a biopic that is as unconventional as its subject. The film focuses on two distinct points of Miles' career: the present day of the late 70's when Miles was in an extended hiatus from making music, and flashbacks to the 60's focusing on Miles' relationship with his wife, Frances. Time jumps were frequent and, at times, simultaneous, but it was easy to keep track of which time was being presented by looking at Miles' hairdo. Anybody who knows me knows that I'm a HUGE Miles Davis fan. He's by far my favorite jazz musician and probably one of my favorite artists in general. The impact he left on the music world is still being felt today almost 15 years after his passing, and Don Cheadle does great work honoring that legacy with this movie. Cheadle's work in front of and behind the camera is really something - this is his directorial debut, too! He manages to capture all of Davis' attitude and passion, not to mention his smoker's voice. I also paid a lot of attention to when Cheadle would mimic along with the music on a trumpet, and he did a good job moving his fingers correctly with the music instead of randomly pressing buttons all the time. He even had mutes in when he was supposed to! (Remember Whiplash?) The supporting cast was fine. Emayatzy Corinealdi, who played Miles' wife, did a fine job, as did Ewan McGregor, who played a Rolling Stone journalist writing about Miles' comeback who ended up going on a bigger adventure than he signed up for. The antagonist, played by Michael Stuhlbarg, was a little over-the-top sleezy, but it wasn't too terrible. I'll of course say with a biased opinion that the soundtrack was top-notch, and the camerawork was fine too. Whoever edited the audio in this movie deserves a lot of credit as well. Folks, I'll be honest. It's hard for me to not fanboy over this movie. I went in with extremely high expectations of Cheadle, and he didn't disappoint me. If you enjoy biopics, especially about musicians, Miles Ahead is definitely worth your time, even though it isn't the conventional "birth to death" biopic. Cheadle gives a memorable performance and a solid debut behind the camera that I look forward to watching for the rest of my music-loving life. Final grade: A
Ben Bruflat
Super Reviewer
The title of this latest music biopic suggests that Miles Davis was a man ahead of his time and many would agree when speaking about his musical talents, but Don Cheadle's first directorial effort, Miles Ahead, isn't introspective enough to put on display why this particular individual was allowed insight into music others hadn't yet tapped into, but rather it's about how Davis was very much a product of his time. In his actions and his views in his personal life Davis was very much of the state of mind that society should function a specific way, especially in regards to how he was allowed to treat the opposite sex and how they weren't allowed to treat him. One can only imagine Cheadle and screenwriter Steven Baigelman (who also worked on Get on Up) decided to come at Davis' story from a more personal angle due to how destructive he needed to be in order to be inspired enough to create what would become his legacy. Of course, that leaves audiences, or more appropriately Davis himself, to deal with the bigger question of what is worth more in the long run-his present prize or his potential imprint he could leave on culture? In Miles Ahead, Cheadle shows us how one drove the other-how life goes on for Davis long after the thrill of living is gone (one can learn a lot from John Cougar Mellencamp). What was the thrill though? The music or the indisputable love of his life, Frances Taylor (Emayatzy Corinealdi)? The even bigger question is does Davis ever figure this out for himself? Sure, he is now the subject of a motion picture and regarded as one of the most influential and innovative musicians of the 20th century, but how often did he think of Frances and the times they could have shared, the memories they could have potentially made while grappling with a reputation that could go either way? Miles Davis, the man, would have you believe that he didn't grapple with anything as one of his most famous quotes states, "do not fear mistakes. There are none," but it's hard to believe given Cheadle's interpretation that being one of the most influential and innovative musicians of the 20th century came with a price Davis wasn't always sure he wanted to pay. read the whole review at www.reviewsfromabed.com
Philip Price
Super Reviewer
For fans of the late, great Miles, this is a fun trip through the ups and downs of his life, and a story that complements the legend of the man. Cheadle truly makes you believe he is Davis in one of his best performances to date (not that War Machine is tough to beat) and McGregor plays himself to a T (inadvertently). The editing is awesome, and it is great to see the "Social Music" greats (Hancock, Shorter, etc) that punctuate the film in a wonderful performance. The unfortunate thing is that most people who don't have much background in the importance Davis played in the history of music will think it is underwhelming and gratuitous at times. It seems to be the tip of the iceberg for the uninitiated. Hopefully, it will spur on the average audience member to delve into his works and his life. But considering his colorful and amazing legacy, I wouldn't care if the plebeian ilk keep this out of sight and out of mind. They would only be so fortunate to enrich their lives with an artist of this caliber.
K Nife Churchkey
Super Reviewer
Miles Ahead Quotes
| | |
| --- | --- |
| Miles Davis: | Don't cal lit jazz man, that's some made up word. This is social music. |
| | |
| --- | --- |
| Miles Davis: | It takes a long time to sound like yourself. |
| | |
| --- | --- |
| Miles Davis: | Francis. I'm going to send a plane to pick you up. I love you. I need you. |
| | |
| --- | --- |
| Miles Davis: | Naw, just woke up black. Knew how to play. |