Milk
(2008)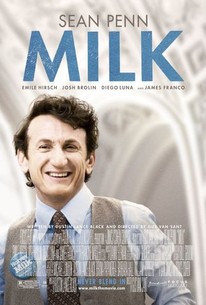 TOMATOMETER
AUDIENCE SCORE
Critic Consensus: Anchored by Sean Penn's powerhouse performance, Milk is a triumphant account of America's first openly gay man elected to public office.
Movie Info
In 1977, Harvey Milk was elected to the San Francisco Board of Supervisors, becoming the first openly gay man to be voted into public office in America. His victory was not just a victory for gay rights; he forged coalitions across the political spectrum. From senior citizens to union workers, Harvey Milk changed the very nature of what it means to be a fighter for human rights and became, before his untimely death in 1978, a hero for all Americans. During the last eight years of his life, while living in New York City, he turns 40. Looking for more purpose, he and his lover Scott Smith relocate to San Francisco, where they found a small business, Castro Camera, in the heart of a working-class neighborhood. Then, with support from Scott and from new friends like young activist Cleve Jones, Milk plunges headfirst into the choppy waters of politics. Bolstering his public profile with humor, Milk's actions speak even louder than his gift-of-gab words. When Milk is elected supervisor for the newly zoned District 5, he tries to coordinate his efforts with those of another newly elected supervisor, Dan White. But as White and Milk's political agendas increasingly diverge, their personal destinies tragically converge.
Audience Reviews for Milk
½
One of the most moving and remarkable films of the past decade. Milk is an extraordinary and extremely well-made film about the final eight years of the life and career of Harvey Milk- a time when his life truly mattered, and when the world was altered because of him. If you don't know, Harvey Milk was the first openly gay elected official in the U.S., and a major player in the world of gay rights. I didn't see Sean Penn in this movie. All I saw was Harvey Milk. That's what I love about Penn- no matter what the role is, he takes it and totally disappears into it. The rest of the cast is equally amazing, and it's a shame that they all couldn't get Oscars for their work. I was especially fond of Hirsch, Brolin, Franco, and Pill. This is somewhat of a return to more mainstream stuff for Gus Van Sant, but I wouldn't call it a complete sell out. That he is openly gay himself doesn't necessarily make the film on the nose, nor does it make the film any better, but it probably doesn't hurt. I just love how this is a show of his versatility. He can make a string of artsy indie stuff, then, no pun intended, play it straight and do something like this: a straightforward biopic about a gay man. Bottom line: This is an important film that needs to be seen-regardless of one's personal convictions.
Chris Weber
Super Reviewer
Great film with strong performances by the entire cast. An important part of American history that is under-reported to the general public. Any American interested in civil rights should see this film.
Christian C
Super Reviewer
Milk rests on Sean Penn's powerhouse performance as Harvey Milk. Without his mesmerizing performance, the film would not be what it is... Chronicling the events, struggles and triumphs of the first openly gay man elected to public office, Milk is a triumphant account of the moving and heartfelt story, told with stark focus by Gus van Sant. Josh Brolin is also fantastic here as Milk's opposer in office, as is James Franco as Harvey's lover.
Raymond Wieser
Super Reviewer
Milk Quotes
| | |
| --- | --- |
| Harvey Milk: | My name is Harvey Milk and I'm here to recruit you. |
| | |
| --- | --- |
| Harvey Milk: | Forty years old — and I haven't done a thing that I'm proud of. |
| Harvey Milk: | Forty years old and I haven't done a thing that I'm proud of. |
| | |
| --- | --- |
| Dan White: | Society can't exist without the family. |
| Harvey Milk: | We're not against that. |
| Dan White: | Can two men reproduce? |
| Harvey Milk: | No, but God knows we keep trying. |
| | |
| --- | --- |
| Cleve Jones: | Elections of any kind are a fucking bourgeois affectation. |