Millennium Actress (Sennen joyû)
(2001)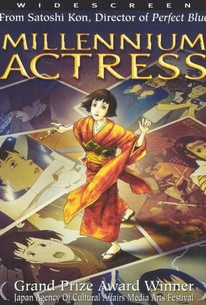 TOMATOMETER
AUDIENCE SCORE
Critic Consensus: The story of an aging movie actress' complicated personal saga unfolds in this sophisticated anime film that deftly blurs memory and make-believe into a meditation on the nature of cinema itself.
Millennium Actress (Sennen joyû) Videos
Millennium Actress (Sennen joyû) Photos
Movie Info
Chiyoko Fujiwara was once a major movie star who dominated the Japanese cinema world. Thirty years ago, she abruptly disappeared from the screen and from public view. One of her greatest admirers, Genya Tachibana, is a documentary filmmaker who has traveled to the isolated mountain lodge where she makes her home to interview her. There, he presents her with an old key, and as if the key had opened a door to her memories, Chiyoko starts telling the story of her life, interweaving moments from her past and future and passing through the boundary between reality and the movies that had made up so much of her life.As her story unfolds, Chiyoko seems to transcend time and space, traveling freely through the corridors of fictional movies and reality. Chiyoko was born when the Great Earthquake hit Tokyo in 1923, as war is looming in Imperial Japan. At a very young age, she is discovered as an actress, and soon becomes one of Japan's most popular stars. Over the course of her career, her movies and her roles encompass all the epochs of Japanese history, bringing her and her audience back more than five hundred years, and then moving chronologically through the centuries to the present and beyond. Chiyoko's first major role finds her in the Warring States Period of the 15th and 16th centuries, where we see her as a princess in a burning castle tower. Her movies swiftly carry her into the Edo Period (1603 - 1868), when the Shogun ruled the country. In one moment, she is portraying a ninja fighting against samurais, but another role transforms her into an innocent local girl who confronts a group of elite samurai guards. She runs away, only to find herself being arrested in a scene set against the backdrop of Japan's Meiji Period (1868 - 1912), at the dawn of a new era when the power of the Emperor was restored. Chiyoko escapes, but in her next movie, we find her in the pre-World War II and war-torn decades of the Showa Period (1912 - 1945). As Chiyoko chronicles her life and career, we come to learn that not only was Chiyoko an icon of the Japanese cinema, but her roles also represented feminine icons of Japanese history.Through each role and in every era, Chiyoko has only one wish-to see her first love, an injured artist and painter she had helped escape from government authorities as a girl. Chiyoko risks everything to hide the mysterious stranger in her storage house. Before she can learn his identity and mission, however, he leaves her...but not before he presents her with the all-important key. From that moment on, she determinedly keeps running-in real life, and in her movies-believing that they will meet again and she will learn the true meaning of the key.As her identity changes with each movie role, so does that of her true love. Yet Chiyoko keeps running after him through the passages of time. Wherever she goes, she also must battle her enemies: a man with a scar and a rival actress, both of whom continue to change their appearances according to the time periods and settings of the movies that make up Chiyoko's life.The two filmmakers, Genya Tachibana and his cameraman Kyoji Ida, become so immersed in Chiyoko's story that they are amazed to find themselves actually witnessing the events as she describes them. To the astonishment of his cameraman, Tachibana is not only present, but has become a character in her movies, appearing to rescue her whenever she is in danger. Chiyoko keeps running through the centuries in pursuit of the "love of her life," as if she had lived for 1000 years. In what appears to be her final role, seemingly in the future, she rockets to the moon, leaving us to wonder what adventures await her there. -- (C) Go Fish Pictures
Critic Reviews for Millennium Actress (Sennen joyû)
Audience Reviews for Millennium Actress (Sennen joyû)
Oh Millennium Actress is one of my all time favourite movies it's just because of how creative and brilliant it is. To see one woman's major struggle throw out Meany eras of her life. A movie studio is being torn down. TV interviewer Genya Tachibana has tracked down its most famous star, Chiyoko Fujiwara, who has been a recluse since she left acting some 30 years ago. Tachibana delivers a key to her, and it causes her to reflect on her career; as she's telling the story, Tachibana and his long-suffering cameraman are drawn in. The key was given to her as a teenager by a painter and revolutionary that she helped to escape the police. She becomes an actress because it will make it possible to track him down, and she spends the next several decades acting out that search in various genres and eras. 90% for story sometimes it can be slow but overall it's the only negative thing about the movie. 100% for dubbing and acting I guess. 100% for animation quality 100% for characters I loved all of them well of course the lead is my favourite. 100% for everything else. I liked the music, settings and it juts goes on and on All I can say is watch it its worth it Keiko's score 95-100
A rather endearing storyline, but the transition between her life and her films in the narrative was a little too smooth for me.
visually stunning, but also something to emotionally connect with
_kelly .King
Super Reviewer
Millennium Actress (Sennen joyû) Quotes