Miller's Crossing
(1990)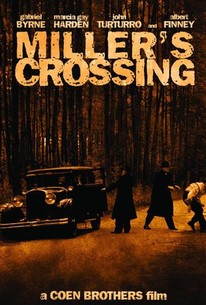 TOMATOMETER
AUDIENCE SCORE
Critic Consensus: Though possibly more notable for its distinctive style than an airtight story, this Coen brothers take on the classic gangster flick features sharp dialogue, impressive cinematography, and a typically quirky cast of characters.
Movie Info
Joel and Ethan Coen's third collaboration, the gangster film Miller's Crossing, stars Gabriel Byrne as Tom Reagan, the right-hand man of big-city Irish mob boss Leo (Albert Finney). The film opens with Italian mobster Johnny Caspar (Jon Polito) and his second in command Eddie Dane (J.E. Freeman) informing Leo and Tom that they are going to kill bookie Bernie Bernbaum (John Turturro) because he has been revealing Caspar's fixed fights to other gamblers. Leo informs Caspar that Bernie pays for protection and is not to be touched. After the Italians leave in a huff, Tom informs Leo that he should give up Bernie. Tom and Leo are both involved with Verna (Marcia Gay Harden), Bernie's sister. After a failed hit on Leo starts a full-scale mob war, Tom reveals to Leo the truth about his relationship with Verna. This leads to a falling-out between the pair. Tom goes to work for Caspar, but in truth, he is still loyal to Leo. Tom figures out how to manipulate all of the situations so that Leo survives, but this may cost Tom his relationship with Verna.
News & Interviews for Miller's Crossing
Critic Reviews for Miller's Crossing
Audience Reviews for Miller's Crossing
½
A gangster film for the ages is actually a homage to the B movies of days gone by, before The Godfather upped the ante and changed the game. Snappy dialogue and seedy bottom dwellers you wouldn't trust with the gum on your shoe highlight this effort wherein everybody smokes and drinks (they ain't got time to eat, like in The Godfather), everybody's looking for an angle to play. Marcia Gay Hardin and Albert Finney are absolutely superb.
Kevin M. Williams
Super Reviewer
"You ain't got a license to kill bookies and today I ain't sellin' any. So take your flunky and dangle". It was in 1984 that we were introduced to (what would become) two of cinema's finest writer/director's in Joel & Ethan Coen. Their darkly cynical debut Blood Simple grabbed audiences by the crotch yet their wacky follow up, Raising Arizona, managed to tickle said area. By their third film, Miller's Crossing, there was no denying that this was truly a creative partnership that knew how to construct and deliver films of great substance and enjoyment. In an unnamed town during prohibition times, Tom (Gabriel Byrne) is the right-hand man to crime boss Leo (Albert Finney). Leo is heavily involved with Verna (Marcia Gay Harden) and losing his judgement as a result. When rival boss Johnny Caspar (Jon Polito) comes to Leo for permission to kill Verna's brother Bernie (John Turturro) for double-crossing him, he's refused. What follows, is a war between gangs and Tom finds himself shifting allegiances while playing one side against the other. When it was released in 1990, Miller's Crossing was a box-office failure. It took about half of it's reportedly $10 million budget and I often wonder if this could have been influenced by Martin Scorsese's more realistic gangster film, Goodfellas, being released in the same year. In hindsight, though, it has achieved somewhat of a cult status and celebrated for depicting it's criminals and their unlawful activity in a very different fashion. The Coen's have been known to reference a few hard-boiled crime writers throughout their films: James M. Cain had a heavy presence in The Man Who Wasn't There and Blood Simple while Raymond Chandler coursed through The Big Lebowski. In this case, it's Dashiell Hammett and, most notably, his novels The Glass Key and Red Harvest that Miller's Crossing references and intertwines. Set in 1929, Barry Sonnenfeld's rich cinematography is a thing of sumptuous beauty. He captures the time and feel of the 20's to absolute perfection by utilising a very particular gradation of colour in deep red, green and brown hues. This is arguably the Coen's most visually stunning film to date and that's saying something considering the meticulous attention to detail throughout most of their work. The characters are just as rich. I'm not normally a fan of Gabriel Byrne but at the centre of the labyrinthine plot he delivers a solidly reserved performance as consigliere Tom Reagan, while those around about him have the more colourful, offbeat roles - the kind of which we have now become accustomed to with the Coen's. From Albert Finney's hopelessly romantic kingpin, Leo O'Bannion to (Coen regulars) Jon Polito as his hotheaded nemesis Johnny Caspar, John Turturro's shady bookie, Bernie Bernbaum and his cohort Mink, a small but important Steve Buscemi. All of them deliver memorable work and play like caricatures from the gangster sub-genre. Their dialogue is just as colourful as their characters and the Coen's ability to write snappy, witty lines has never been more present than it is here. From some corners, the film received criticism for being too self-conscious in its approach. There are metaphoric images of Fedora's tumbling through autumnal forests and hilarious discussions on the "ethics" of corrupt business but these moments only add to the film's originality and it's ability to carve it's own niche. Admittedly, there isn't the sense of realism that you'd expect from a gangster film but when the characterisation and pallet are as striking as they are, then it's an approach that's very welcome indeed. Those who have a particular appreciation for the film-noir's of yesteryear will, no doubt, be the kind of audience that Miller's Crossing will appeal to most. However, those that appreciate smart storytelling while basking in gloriously visual filmmaking will be in safe company too. Miller's Crossing was one of the Coen brothers' earlier works and, to this day, remains one of their best. Mark Walker
Mark Walker
Super Reviewer
½
This is a brilliant and highly original gangster picture. It's a superb Coen Brothers film too. It's one of their absolute best, and I highly recommend it. The plot, like a majority of films from the Coens is very complex and twisty, but it makes for some very rewarding multiple viewings. In fact, there's so much detail and subtlety layered in this film that new stuff continues to creep out each time you watch it. It's the sort of film that you don't have to watch more than once to appreciate it, but you should, because you will appreciate it even more. Gabriel Byrne, JohnTurturro, John Polito, and Albert Finney all give superb performances. Carter Burwell's score, and Barry Sonnenfeld's camera work are brilliant. To sum it all up: this is a brilliant film, and a noirish gangster masterpiece. As for the plot: well, I said it was complex, and, yeah, I'm not lying. Well, actually, the basic plot is simple: a guy caught up in a feud between warring gangster factions plays both sides against the other to help his the side he really wants to win come out on top. He just happens to go about it in a very convoluted and messy way, and that's what makes it complex. They even mention in the film how the character is prone to go about things in this manner. It makes for some interesting viewing, and it's also a nice study of loyalty, ethics, and figuring out what people want, and why they do the things they do. A lot of the film is subtle, but there are some moments that go a bit over the top and off the rails (John Polito tends to scream most of his lines), and the recurring trope of howling fat men is here (aside from Polito). And the other howling fat guy is one of the few moments in this film that bugs me. It sticks out, goes on for too long, and doesn't really have much purpose other than, I guess, to add some levity, which isn't really needed. There's a couple other moments like that, but they don't get to me like this one does. All in all, I really love this movie. It's a stylish gangster pic that both pays homage to the genre, and kinda flips it on its side a bit. But, given how it's from Joel and Ethan Coen, that should be expected.
Chris Weber
Super Reviewer
Miller's Crossing Quotes
| | |
| --- | --- |
| Eddie Dane: | [to Tom] I am gonna send you to a deep dark place, and I am gonna have fun doin' it! |
| | |
| --- | --- |
| Tom Reagan: | What's goin' on between you and Bernie? |
| Mink: | Nothin', Tom. We're just friends--you know, amigos. |
| Tom Reagan: | You're a fickle boy, Mink. If the Dane found out you had another "amigo"--well, I don't peg him for the understanding type. |
| Tom Reagan: | You're a fickle boy, Mink. If the Dane found out you had another 'amigo'--well, I don't peg him for the understanding type. |
| | |
| --- | --- |
| Leo: | [to Caspar] You haven't bought any license to kill bookies and today I ain't sellin' any. Now take your flunkie and dangle. |
| | |
| --- | --- |
| Eddie Dane: | Where did you get the fat lip? |
| Tom Reagan: | Old war wound. Acts up around morons. |