Million Dollar Baby
(2004)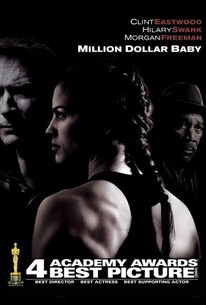 TOMATOMETER
AUDIENCE SCORE
Critic Consensus: Clint Eastwood's assured direction - combined with knockout performances from Hilary Swank and Morgan Freeman - help Million Dollar Baby to transcend its clichés, and the result is deeply heartfelt and moving.
Million Dollar Baby Photos
Movie Info
Frankie Dunn (Clint Eastwood) is a veteran boxing trainer who has devoted his life to the ring and has precious little to show for it; his daughter never answers his letters, and a fighter he's groomed into contender status has paid him back by signing with another manager, leaving Frankie high and dry. His best friend and faithful employee Eddie Dupris is a former fighter who Frankie trained. In his last fight, Eddie suffered a severe injury, a fact that brings Frankie great guilt. One day, Maggie Fitzgerald (Hilary Swank) enters Frankie's life, as well as his gym, and announces she needs a trainer. Frankie regards her as a dubious prospect, and isn't afraid to tell her why: he doesn't think much of women boxing, she's too old at 31, she lacks experience, and has no technique. However, Maggie sees boxing as the one part of her life that gives her meaning and won't give up easily. Finally won over by her determination, Frankie takes on Maggie, and as she slowly grows into a viable fighter, an emotional bond develops between them. When a tragedy befalls one of the three characters, each comes to a decision that shows how the relationships in the film have changed them. Adapted from a short story by F.X. Toole, a former corner man with years of experience in the fight game, Million Dollar Baby also stars Morgan Freeman, Anthony Mackie, and Mike Colter. ~ Mark Deming, Rovi
Critic Reviews for Million Dollar Baby
Audience Reviews for Million Dollar Baby
This impressive feat from actor/director Clint Eastwood makes for a tearful cry, which is rare in a sports dramas, and it also says a lot about a character that remains an example of complex storytelling in films. Without stressing the twists and turns of the plot, and the obvious inclination at spoiler alert, this film is easy to clarify. What I can tell you is that this film is not an average sports drama and it is a film that centers more on atonement, guilt, and the pursuit of self-preservation and dignity. The film centers on the dynamic relationship between trainer Frankie (Eastwood) and fighter in training Maggie (Swank). Frankie is still pained about his friend Eddie (Freeman) having gone in blind in one eye because he didn't call a fight in time. Frankie now trains men in the local gym that he and Eddie own, Frankie dealing with cut work in-between fights and Eddie helping out some of the weaklings, including Danger (Baruchel) who toys around with the idea of becoming a fighter. Frankie meets Maggie while she pursues him to be her trainer, and they grow a friendship that leads to mutual trust and understanding. The way Frankie deals with the injuries of boxing, getting away from his past and yet relives it at the same time, is devastating to watch. One minute everything is starting to feel positive, and the story remains uplifting for both Frankie and Maggie, and then Frankie is faced with his past yet again. Maggie, as a character, is one of the most interesting women to be put onscreen in some time. Not only does she take interest in her future, but she does something about it, and becomes friends with Frankie, eventually taking on the role of daughter, since his own won't talk to him. She has a horrible family, a stalled past, and complete ambition, besides being feisty. There's also a priest character in the film who is very interesting and works well against Frankie's hardened demeanor and moral quandaries. By the end Frankie seems to have found closure, but he has also sacrificed a part of him that will never grow anew. It's heartbreaking, and if the ending is not ruined for you already, this is definitely going to surprise you.
Spencer S.
Super Reviewer
A masterpiece, plain and simple. A total knockout of a movie right to the heart. Absolutely perfect. Unforgettable and Powerful. Brilliant, remarkable and groundbreaking. It's compelling, astonishing, deeply moving, outstanding and breathtaking. Eastwood and Freeman have never been better. They have a unique and well-developed chemistry, it's always great to see these two icons work together. Morgan Freeman is extraordinary, he gives a soft spoken and riveting performance. Clint Eastwood is passionately raw and excellent, it's definitely one of the best and most emotionally naked performances of his career. Hilary Swank is magnificent. It's probably the best performance of her career. A heart wrenching and heart breaking film. A real punch of power, humor, personal triumph and devastating emotion. It's superb drama at it's very best. A towering achievement by a top artist in top form. Every scene is shot perfectly with great style. It makes you think dreams are worth fighting for. One of the finest movies ever made. A real classic that will stand with Director, Eastwood's best films like Unforgiven and Mystic River.
½
Eastwood's masterpiece, pure and simple, with guts and glory, respect, honor and love, and boxing (that venerable movie warhorse, trotted out again, this time with a woman as the fated underdog from nowhere), delivered humbly by Freeman, Swank and Eastwood himself.
Kevin M. Williams
Super Reviewer
Million Dollar Baby Quotes
| | |
| --- | --- |
| Eddie Scrap-Iron Dupris: | (last lines) (Narrating) No matter where he is, I thought you should know what knda man that your father really was. |
| | |
| --- | --- |
| Eddie Scrap-Iron Dupris: | (first lines) (Narrating) Only ever met one man that I wouldn't wanna fight. When I met him and he was already the best cut man in the business. Started trainin' and managin' in the sixties, but never lost his gift. |
| | |
| --- | --- |
| Maggie Fitzgerald: | I've seen you lookin' at me. |
| Frankie Dunn: | Yeah, out of pity. |
| Maggie Fitzgerald: | Don't you say that! Don't you say that if it ain't true! I want a trainer. I don't want charity and I don't want any favours. |
| Maggie Fitzgerald: | If you're not interested that I got more celebratin' to do. |
| | |
| --- | --- |
| Maggie Fitzgerald: | I seen you looking at me. |
| Frankie Dunn: | Yeah, out of pity. |
| Maggie Fitzgerald: | Don't you say that! Don't you say that if ain't true! I want a trainer. I don't want charity and i don't want favours. |
| Maggie Fitzgerald: | If you're not interested i got more celebrating to do. |