Millions
(2005)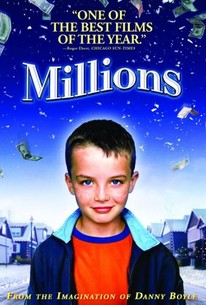 Movie Info
In just seven days' time Britain converts to the Euro. It's the biggest opportunity the criminal world has ever had. When a railway heist goes wrong and an enormous bag of money falls from the sky into the hands of Damian and Anthony, there's only one thing to do--spend it like there's no tomorrow.
News & Interviews for Millions
Critic Reviews for Millions
Audience Reviews for Millions
In this dramedy from Danny Boyle, we get the story of young Damian Cunningham- a precocious child who, along with his older brother and recently widowed father, have moved to the suburbs to start over. During the process, Damian comes across a huge stash of cash from a gym bag that literally falls out of the sky. Less concerned with where it came from, and more worried about how to spend it, Damian ultimately decides to try to spend it more altruistically, a task easier said than done considering he's trying to keep it a secret from his dad as well as avoid a mysterious man out to claim the money for himself. Considering this is a kid friendly family film, it might seem odd that it's from Danny Boyle, but it actually fits into his oeuvre quite nicely, especially since it shares the theme of greed with some of his other films. Plus, the idea of someone known for making hard edged film then doing a 180 is not that new, with David Lynch being a great example. I do like this though. Quite a bit actually. It's fun, quirky, whimsical, and very heart warming. Even odd little touches like Damian talking to saints doesn't seem to stick out, and very much feels at home. The film has Boyle's usual flair for energy and drive, and it has some pretty neat artistic touches throughout. The music is quite nice, and I liked how it sometimes reminded me of Danny Elfman's score for Edward Scissorhands. It's also shot and edited pretty well, but that's probably to be expected. You should give this a look. It's a family film that has kids in mind, but it's well meaning, has a great message, and is done very well, so it actually makes sense why it should be recommended.
Chris Weber
Super Reviewer
½
Yes, it's a children's film, so I'm probably not the best one to judge, but does it have to be this sentimental? 'Millions' is nauseatingly absurd; a Christian tale that had me on the verge of tears by the closing sequence,and not the kind soppy mothers would have. Damian is a precocious little brat who absorbs himself in history books, one day being presented with a large bag of cash that has fallen from a passing train. It is at this moment that the Christian nonsense starts, the virtuous little git giving it away to what he labels 'poor people'. This is all complicated when the dubious owner of the money is revealed, Damian stating that it's 'wrong' to utilise money that's 'not theirs'. It is Damian's good but annoyingly ignorant will that serves as one of my main vexations of the film. There are many sequences that are shot in signature Boyle style; vibrant, fast and technical. I've never much cared for this however, in Boyle's work and in others', it is often excessive and out to impress, and ultimately is often compensating for the film's weaknesses in narrative. This certainly applies to 'Millions'. The film is slushy nonsense, but the aforementioned finale reaches heights I rarely experience; it is so predictable and reprehensibly maudlin. Ultimately, the unoriginal, implausible premise and the horrifying melodrama that follows ultimately make this film a prolonged bore. I cannot understand why a grown adult would want to make a film like this, especially one of Danny Boyle's calibre; then again, he did direct Slumdog Millionaire...
Jack Hawkins
Super Reviewer
From the bloke who brought you 28 Days Later, that violent zombie classic, Sunshine, that violent space classic, comes another film that is still a classic, but not violent, like most of his other films... Millions is the story about the UK switching to the Euro. Damien is a kid who likes saints amongst other things; when he moves house after him mum died, he builds a cardboard box house by the trains, only for it to be crushed by a bag. A bag full of money that was going to be burnt. What then ensues is a very funny, entertaining and nice story about what he and his brother then decide to do with the money. Lots of funny moments, serious moments, as well as a looming threat and a sinister undertone that soon becomes evident, make this film such a great film for the whole family. Even if you are not into family films, this one is at least worth a shot. It does have some quite serious moments that do come through and capture the child in many of us all...
BG Movie Reviews 2011
Super Reviewer
Millions Quotes
| | |
| --- | --- |
| Anthony Cunningham: | We can't tell Dad about this! We can't tell anyone about this. |
| Damian Cunningham: | Why not? |
| Anthony Cunningham: | Tax. If the government were to find out about this, they'll take 40% of this away. 40%! Do you know how much that is? Nearly all of it! |
| | |
| --- | --- |
| Damian Cunningham: | I know its just a dream. But I don't care even if its just a dream. will you talk to me? |
| Damian Cunningham: | I know its just a dream. But I don't care even if its just a dream. Will you talk to me? |
| | |
| --- | --- |
| Damian Cunningham: | God doesn't rob banks, alright? GOD DOESN'T ROB BANKS. |
| | |
| --- | --- |
| Mum: | You know how complicated the money was? well... people are even more complicated. |
| Mum: | You know how complicated the money was? Well... people are even more complicated. |