Secret Sunshine
(2010)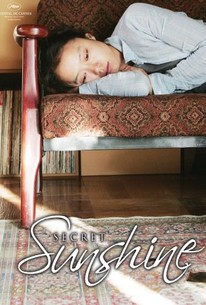 TOMATOMETER
AUDIENCE SCORE
Critic Consensus: Plumbing the depths of tragedy without succuming to melodrama, Chang-dong Lee's Secret Sunshine is a grueling, albeit moving, piece of beautifully acted cinema.
Movie Info
Soon after relocating herself and her son to the town in which her late husband (and the father of her child) was born, a woman named Shin-ae finds her attempt to start life anew offset by yet another unforeseen tragedy in director Lee Chang-dong's melancholy slice of life.
Critic Reviews for Secret Sunshine
Audience Reviews for Secret Sunshine
A brave exploration of grief and the process of forgiveness. We all know those people who seem to attract tragedy. We read about them in the paper or hear about them through a family friend. In yet another great film by director Lee Chang Dong, we are given insight into the lives of one of these perpetual victims. It follows the plight of a young woman as she attempts to move forward in the face of her world collapsing around her. This study of the grieving process, made possible by the phenomenal performance by Jeon Do-yeon, isn't just an opportunity to go hog wild with gut-wrenching speeches and tears, but is one of the more honest approaches I have seen in a long time. With this, comes its share of risks. For example, It is risky to take a woman, whom the audience feels so much sympathy for, and through the recovery process alienate her so much from the audience. It is hard to understand why she does what she does. but we get the sense that we cannot possibly even begin to understand what she is going through. Sometimes there are no tears and as comforting as faith can be for others, it isn't immediate enough to snub out the pain that is sometimes scraping your very nerve and at other times leaving you completely numb. Also, that same faith that can be freeing to many, can be used by others as a more subtle tool of control. Maybe I'm just biased due to my love for Korean cinema, but I feel like South Koreans are able to take a more honest look in the mirror than I think most are willing to allow. There is a hell of a lot more to chew on in this one film than the past 20 domestic films I have watched. And for that, I give it a lot of credit. It isn't a pleasant watch, but one that is definitely worth your time.
Grieves with sorrow and shines with faith, Secret Sunshine ponders on spiritual maturity and recovery of a woman tormented by loss. Starring 2007 Cannes Film Festival Best Actress Jeon Do-Yeon. Argumentative. Complex. Magnificent.
Jan Marc Macababayao
Super Reviewer
Another good Korean film (aren't they always good?! I honestly can't think of too many I haven't liked.. not that I have seen lots, but anyhow....). Though this is mainly a sad story about loss, (Shin-ae moves to her deceased husband's hometown in memory of him with their small son. Not long after, her son is kidnapped and drowned), it also manages to be quite funny in places. Quite an achievement considering the subject matter! Well acted, well paced - at over 2 hours long it doesn't wear out it's welcome as you might expect. I was really impressed with the actress who plays Shin-ae (Jeon Do-yeon).
Nicki Marie
Super Reviewer
Secret Sunshine Quotes
There are no approved quotes yet for this movie.