The Mind Benders
(1963)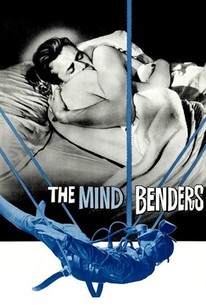 AUDIENCE SCORE
Critic Consensus: No consensus yet.
Movie Info
A scientist's attempts to clear the name of a friend nearly destroy his life in this intelligent science fiction drama. Prof. Sharpley (Harold Goldblatt) is a research scientist from Oxford University working with the British government on experiments in sensory deprivation. One day, Sharpley suddenly and shockingly commits suicide by throwing himself under an oncomming train while holding a briefcase stuffed with cash. While investigating the death, the police present the theory that Sharpley was a double agent, perhaps allied with the Communists, and that the death was the final result of his shame over betraying Great Britain. However, Sharpley's friend and associate Dr. Henry Longman (Dirk Bogarde) strongly disagrees, and he speculates that Sharpley's death had something to do with his research. In hopes of clearing Sharpley's name with police investigator Maj. Hall (John Clements), Longman begins subjecting himself to sessions in a sensory deprivation tank in order to prove that use of the technique can make one unusually suceptable to brainwashing or hypnotic suggestion. Longman emerges from the chamber frightened and disoriented, and in Long's presence one of his associates is able to convince Longman that he no longer cares for his wife Oonagh (Mary Ure). The doctor returns home displaying a callous and distant attitude toward his pregnant wife, and his personality begins to display an increasing number of deeply troubling changes. James Kennaway adapted the screenplay from his own novel.
Critic Reviews for The Mind Benders
All Critics (2) | Fresh (2) | Rotten (0) | DVD (1)
...a strange little film that explores what was then a trendy topic (the effects of sensory deprivation on the mind, as presented in a popular novel of the day) in a way that's both disturbing and memorable.
An influential but forgettable and slow-moving sci-fi thriller with an agreeable espionage twist over a controversial secret mind-control experiment.
Audience Reviews for The Mind Benders
A fine performance by Bogarde in an otherwise mediocre film.
Stefanie C
Super Reviewer
The Mind Benders Quotes
There are no approved quotes yet for this movie.