Mindwarp
(1992)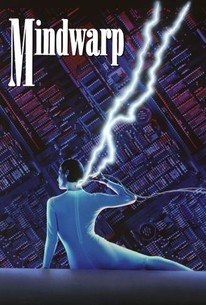 AUDIENCE SCORE
Critic Consensus: No consensus yet.
Movie Info
In a post-holocaust world, one woman (Marta Alicia) relies on computer fantasies to entertain herself, but a glitch sends her to a far-off wasteland to deal with monsters called Crawlers. She is saved by a young rebel (Bruce Campbell), but the pair are later captured and brought underground by the Crawlers. There, an overlord called the Seer (Angus Scrimm) presides over the kingdom and tries to make life miserable for his captives.
Critic Reviews for Mindwarp
All Critics (3) | Fresh (2) | Rotten (1) | DVD (1)
Deserves to be rediscovered by genre scavengers intent on unearthing all the lost horror gems from the period.
The focus is predominantly on gratuitous violence and repulsive carnage, with tremendous makeup effects, plenty of grisly imagery, and a decidedly bleak conclusion.
Not-bad "B" flick that was produced by Fangoria magazine's short-lived film-division arm.
Audience Reviews for Mindwarp
Prime-era Bruce Campbell in a sci-fi tale? I'm there! But I should have brought a budget because the filmmakers sure didn't! Don't get me wrong, The Chin Man and low budgets go together like Kid Rock fans and wife beating. This is actually a futuristic horror: in an eerily Matrix-like premise 7 years before the fact, disillusioned Judy is fed up with plugging into a computer-generated alternate reality designed to take mankind's collective mind off the horrors of the real world. Once exiled from this "dreamland," she faces the barren post-apocalyptic terrain with lone human Stover (Campbell) for protection. The land-dwellers are menaced by cannibalistic "crawlers"who live throughout a series of tunnels underground. Sounds kinda cool, right? Well it is, kinda. The problem is that soon after we get the setup, we are plunged into the underground amongst the crawlers and don't see the light of day again until the very end. That's a lot of time to spend in grimy tunnels and poorly-lit chambers (what do you expect? It's underground!) as our heroes try to escape. The makeup effects for the ghoulish crawlers are nothing very special but some of the violence & gore is still pretty potent. One particular scene showing the plucking out of an eyeball and subsequently passing the screaming victim through a giant bladed juicer so their blood can be drunk by the gathered mob shan't be quickly forgotten. Did I mention the victim is a 13-year old girl? Tell me you've seen THAT one before. *Ulp.* Marta Alicia as Judy is not a very good actress - the credits precede her name with 'Introducing' and might as well have used 'Exiting' as far as movies are concerned. IMDB shows a long list of TV appearances but very little filmwork, although somehow she found her way into J.J. Abrams' Star Trek as 'Medical Technician.' The sets are pretty good, and I liked how the crawlers mined not only to expand their network of tunnels but more importantly to find objects and technology: intact lightbulbs, gears, motors from appliances, all buried from the civilization-ending war. They also throw in a twist ending long before it has become all the rage, which makes it fairly easy to spot. Possibly worth a look for Bruce fans although he doesn't have as much screen time as one would like. Expect more 'Fi' than 'Sci' and a good amount of the red liquidy stuff that leaks from skin when brutally stabbed.
Doctor Strangeblog
Super Reviewer
A headstrong young girl seeking "real experiences" gets what she asked for when she is exiled from a safe society where everyone spends the bulk of their lives hooked into virtual reality pleasure machines, and is forced to fend for herself on a post-nuclear surface world filled with cannibal mutants. Fast-moving and surprisingly thoughtful; would have been better if co-star Bruce Campbell's charisma had been put to better use.
Bruce Campbell and Angus Scrimm start their cameo appearance careers. Even in this Fangoria produced film, you would expect with those 2 great talents they'd want to use them more. Anyway, I did enjoy this when I saw it, I wonder what I'd think now?
Christopher Brown
Super Reviewer
Mindwarp Quotes
There are no approved quotes yet for this movie.