Ministry of Fear
(1944)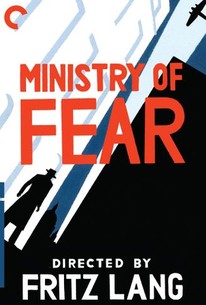 Movie Info
An innocent man is drawn into a web of espionage when he unwittingly comes into possession of a crucial piece of microfilm in this shadowy, ominous film noir. Fritz Lang's adaptation of Graham Greene's novel is filled with unusual touches, beginning with the fact that protagonist Stephen Neale (Ray Milland) has just been released from a mental asylum. To celebrate his return to the real world, he visits a local carnival, only to accidentally receive a "prize" meant for a Nazi agent. When he discovers the error, he turns for help to a detective, whose investigations only make the matter more complicated. Neale soon winds up on the run from both the Nazis and the police, who mistakenly believe him guilty of murder. Lang's famous expressionistic style is somewhat muted here, but Henry Sharp's crisp black-and-white cinematography sets a suitably unsettling mood, and the twists and double-crosses of Greene's story unfold at an appropriately quick pace. While it does not reach the same level of timeless classic as Carol Reed's adaptation of Greene's The Third Man four years later, Ministry of Fear stands as a well-made, thoroughly gripping and intelligent example of film noir.
Critic Reviews for Ministry of Fear
Audience Reviews for Ministry of Fear
I don't really care that the story is ridiculous, Lang directed the film beautifully (Is there any other director who used contrasting shadow and light so well?) and I like that its a WWII propaganda film, that doesn't really feel like a propaganda film . . . probably because the "heroes" and "villains" are less clearly defined than most stuff from that era.
Alec Barniskis
Super Reviewer
½
Ministry of Fear is easily one of Fritz Lang's high points of the 1940s. He does a great job capturing WWII London with a dreadful mood. The chase scene in the beginning as well as the seance scene is worth it alone. The cast is good, but the set design is superb and if my senses aren't failing me I'd say that Ministry of Fear is a precursor to North By Northwest. Overall, the setup is good, the middle dwindles a bit and the last few minutes are kind of weak (with a slightly embarrassing ending) but if you can get your hands on a copy of this movie it's worth the time.
Michael Gildea
Super Reviewer
Ministry of Fear Quotes
There are no approved quotes yet for this movie.