Minotaur
(2006)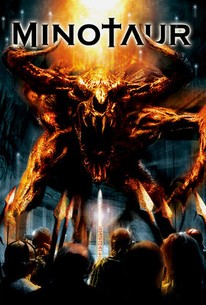 AUDIENCE SCORE
Critic Consensus: No consensus yet.
Movie Info
Jonathan English's action-adventure film Minotaur concerns a young man who sets out to slay the title creature after the man's love was sacrificed to the half-man, half-bull. ~ Perry Seibert, Rovi
Critic Reviews for Minotaur
Audience Reviews for Minotaur
Pretty decent trip down Grecian myth/memory lane as a juvenile Tom Hardy faces off against the biggest angry bull you're likely ever to see. Tony Todd gets to chew major scenery as the bad royal financing the dirty dealings with moustache twirling glee. Rutger Hauer puts in an minor appearance, but it was only to sign a few autographs before leaving to check out the party going on over at Versace's. Sword and sandal fun.
Kevin M. Williams
Super Reviewer
I knew this movie was gonna suck but DAMN! Not even Tom Hardy's hot could save this crap.
Remi Logan
Super Reviewer
½
WHYYYY? Why did this movie have to be so crummy? Why do I keep doing this to myself? It didn't make any damn sense, which would have been okay if its crazy foolishness had been fun to watch. Despite the animation being really rather impressive, the script is really weak and even actors of this calibre can't make it entertaining. Minotaur remains just on this side of enjoyability - neither sincerely good nor ironically hilarious. The actors are all milling around, not knowing what to do with themselves. And then there's Tom Hardy, the gem, buried like a raisin in a cookie, being way better than he needs to be, perhaps under the impression that he's in a real movie. I found it hilarious how much effort makeup and wardrobe had to go to to make him look frumpy. Sorry guys, even with that ridiculous haircut, the stubble and the ratty tunic, I still think he's yummy.
Emily Armstrong
Super Reviewer
Minotaur Quotes
There are no approved quotes yet for this movie.