The Minus Man
(1999)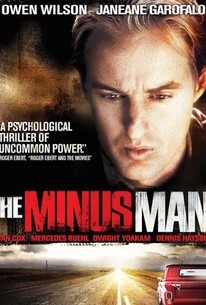 TOMATOMETER
AUDIENCE SCORE
Critic Consensus: While its subdued thrills and lack of answers may prove frustrating, The Minus Man delivers a chillingly measured performance from Owen Wilson.
Movie Info
Notable as the directorial debut of Blade Runner co-scripter Hampton Fancher, this darkly comic thriller stars affable Owen Wilson as Vann Siegert, a different brand of serial killer: one who actually believes he's doing his deeply depressed victims a service of mercy. Wandering up the West Coast, Vann chooses victims from a parade of colorful social misfits -- including a haggard junkie (singer Sheryl Crow) whose pain he ends with a nip from his flask of poison amaretto -- and expounds on his motives with a pocket tape recorder (a drawling monologue that serves as the film's narrative voice-over). A brief layover in Owensville eventually finds Vann in the company of quarreling middle-aged couple Doug and Jane (Brian Cox and Mercedes Ruehl), who grow fond of the young drifter's amiable demeanor and take him on as a boarder. After landing a job at the local post office, Vann catches the eye of co-worker Ferrin (Janeane Garofalo), and a tentative romance blossoms -- but even love can't distract Vann from his crusade to terminate people's unhappiness: "They come to me like moths, because I shine," he explains. Though not the complex psychological game it purports to be, The Minus Man is an intriguing character study -- imagine a kindler, gentler version of Henry: Portrait of a Serial Killer -- with some clever twists and fine performances, including a touching portrayal from the usually acerbic Garofalo. Geared more to the art-movie crowd than to fans of Hitchcockian thrills, this film opened to raves at the 1999 Sundance Film Festival.
Critic Reviews for The Minus Man
Audience Reviews for The Minus Man
Something constructed back when Owen Wilson felt a need to act. The film hangs far too often.
John Ballantine
Super Reviewer
Leigh Ryan
Super Reviewer
½
A very disappointing attempt of a psychological thriller about a murderer in the shape of a regular guy. While Owen Wilson turns out be be very convincing despite of his comedy background, and the rest of the cast is pretty good too, somehow the movie just isn't very interesting. The killer poisons one victim after the other rather randomly and yet nothing exciting happens. No suspense, no surprises, just a few rather odd scenes of imaginary dialogues with policemen. Boring.
The Minus Man Quotes
There are no approved quotes yet for this movie.