Miracle at St. Anna
(2008)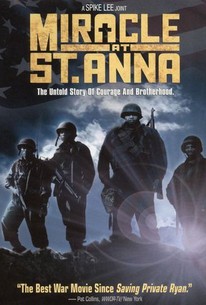 Miracle at St. Anna Photos
Movie Info
"Miracle at St. Anna" chronicles the story of four African-American soldiers who are members of the U.S. Army as part of the all-Black 92nd Buffalo Soldier Division stationed in Tuscany, Italy, during World War II. They experience the tragedy and triumph of the war as they find themselves trapped behind enemy lines and separated from their unit after one of them risks his life to save an Italian boy.
News & Interviews for Miracle at St. Anna
Critic Reviews for Miracle at St. Anna
Audience Reviews for Miracle at St. Anna
whoever wrote the script should be sentenced to 10 courses in remedial scriptwriting 101. What a mess - dialogue right out of a high school play, while beating us over the head with its message, and being completely unable to decide what type of film it wants to be. We take a prommissing start, with some nice cinematic touches, sprinkle in some odd noir (Torturo and the reporter are right out of a Chandler novel), and then do a 180 into a not very intense war piece that is more about snafus and human frailties than anything else (the writer even feels compelled to explain snafu - good grief!). In attempting to explain all the bizarre situations, there are still holes a mile wide in the narrative, and often actors are left either over emoting or trying to get some kind of feel for the lousy dialog they have to speak. The final payoff is contrived and ridiculous, and the little "sermon" given by the savior's servent is laughable and cringe worthy (closeup into the camera - as if we didn't already know that this drivel was the "message"). What a disappointment!
paul sandberg
Super Reviewer
½
2 hours and 40 minutes is a long time to endure a barrage of one-dimensional characters. Unlike other recent war films that vividly capture the chaos and mayhem of battle, Miracle at St. Anna seems contrived and overly scripted. This isn't combat through the eyes of soldiers, this is a perception of combat through the eyes of a director. As much as I admire Spike Lee, and as much as I really (REALLY) wanted to like this film, I just couldn't. This one is far too cliche to be taken seriously.
Randy Tippy
Super Reviewer
Miracle at St. Anna Quotes
There are no approved quotes yet for this movie.