Miracle on 34th Street
(1947)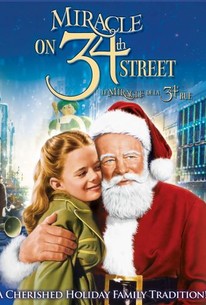 TOMATOMETER
AUDIENCE SCORE
Critic Consensus: Irrefutable proof that gentle sentimentalism can be the chief ingredient in a wonderful film, Miracle on 34th Street delivers a warm holiday message without resorting to treacle.
Miracle on 34th Street Videos
Miracle on 34th Street Photos
Movie Info
Edmund Gwenn plays Kris Kringle, a bearded old gent who is the living image of Santa Claus. Serving as a last-minute replacement for the drunken Santa who was to have led Macy's Thanksgiving Parade, Kringle is offered a job as a Macy's toy-department Santa. Supervisor Maureen O'Hara soon begins having second thoughts about hiring Kris: it's bad enough that he is laboring under the delusion that he's the genuine Saint Nick; but when he begins advising customers to shop elsewhere for toys that they can't find at Macy's, he's gone too far! Amazingly, Mr. Macy (Harry Antrim) considers Kris' shopping tips to be an excellent customer-service "gimmick," and insists that the old fellow keep his job. A resident of a Long Island retirement home, Kris agrees to take a room with lawyer John Payne during the Christmas season. It happens that Payne is sweet on O'Hara, and Kris subliminally hopes he can bring the two together. Kris is also desirous of winning over the divorced O'Hara's little daughter Natalie Wood, who in her few years on earth has lost a lot of the Christmas spirit. Complications ensue when Porter Hall, Macy's nasty in-house psychologist, arranges to have Kris locked up in Bellevue as a lunatic. Payne represents Kris at his sanity hearing, rocking the New York judicial system to its foundations by endeavoring to prove in court that Kris is, indeed, the real Santa Claus! We won't tell you how he does it: suffice to say that there's a joyous ending for Payne and O'Hara, as well as a wonderful faith-affirming denouement for little Natalie Wood. 72-year-old Edmund Gwenn won an Oscar for his portrayal of the "jolly old elf" Kringle; the rest of the cast is populated by such never-fail pros as Gene Lockhart (as the beleaguered sanity-hearing judge), William Frawley (as a crafty political boss), and an unbilled Thelma Ritter and Jack Albertson. Based on the novel by Valentine Davies, Miracle on 34th Street was remade twice: once for TV in 1973, and a second time for a 1994 theatrical release, with Richard Attenborough as Kris Kringle. ~ Hal Erickson, Rovi
News & Interviews for Miracle on 34th Street
Critic Reviews for Miracle on 34th Street
Audience Reviews for Miracle on 34th Street
Fred Gailey: Faith is believing when common sense tells you not to. Don't you see? It's not just Kris that's on trial, it's everything he stands for. It's kindness and joy and love and all the other intangibles. "Capture the spirit of Christmas with this timeless classic!" Miracle on 34th Street is every bit the timeless holiday classic I had heard it was, and is now easily my second favorite Christmas film behind only It's a Wonderful Life. This is a heartwarming and smart film that stays away from all the normal cliches that most holiday films get wrapped up in. It's original in every way, but what you have to love about it is the way it makes you feel. It makes me want to believe in Santa Clause. A man arrives in New York sporting a long white beard and claims his name is Kris Kringle. He is hired on as Macy's Santa Clause when he successfully replaces a drunk Santa Clause for the Macy's Thanksgiving Parade. A few people begin to think that Kris is insane because of his belief that he is Santa Clause and he is soon brought to trial for commitment to a insane asylum.  The cast is fabulous in this one. Maureen O'Hara is terrific as a mother who doesn't want her daughter believing in any fantasies such as Santa Clause. John Payne gives a good performance as the neighbor of O'Hara's character and Kris's lawyer. Natalie Wood plays Susan, the daughter who doesn't believe in Santa Clause in one of her first roles and her first major role. And Edmund Gwenn is delightful, embodying the very essence of what we would think Santa Clause to be in an Oscar winning role.  Miracle on 34th Street is definitely going to be a new tradition for me around the Christmas season. I'm just a little disappointed that this wasn't always a holiday tradition for me. My parents screwed up there I guess. It's a must see movie, that has wonderful heart and beautiful and witty sense of humor. This is definitely a movie to put on your must see list. 
Melvin White
Super Reviewer
Some old fat guy shows up in New York and claims, now get this for yer holiday giggles, that he's Santa Claus! No. Really? Yer kiddin' me! Would I lie? Santa Claus. Can you believe the nerve of some people? And right around Christmas too. They oughtta lock that fruitcake up is what they should do. Where's the sensitivity? Where's the humanity? Where is the spirit of Christmas?!? I mean, c'mon, I don't believe in Santa Claus or nuthin', but why mess wit th' minds o' dem little kids is all? I mean, who but a kid would believe? Santa Claus! Jesus!
Kevin M. Williams
Super Reviewer
½
Wholeheartedly smart, funny and hopeful, it never ceased to bring smiles for one must agree, even the most grounded sort, the age old truth and wisdom that belies it's wonderfully crafted and surprisingly complex, intriguing and delightful story and dialogue. To captivate the generations of the true of heart, it succeeds in its purity, depth, charms and all that sentimentality that everyone needs.
Adriel Lim
Super Reviewer
Miracle on 34th Street Quotes
| | |
| --- | --- |
| Susan Walker: | I believe, I believe, I believe. |
| | |
| --- | --- |
| Fred Gailey: | Faith is believing in things when common sense tells you not to. |
| | |
| --- | --- |
| Kris Kringle: | Oh, Christmas isn't just a day. It's a frame of mind. |