The Misfits
(1961)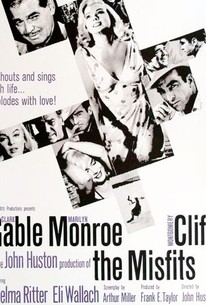 Movie Info
Arthur Miller scripted this tale of a recently divorced, one-time stripper (Marilyn Monroe) who begins a relationship with a down-on-his-luck cowboy (Clark Gable). The man, with his partners (Montgomery Clift, Eli Wallach), works at odd-jobs and looks for "misfits" (wild horses too small for any real work) to be ground up into dog food. The stripper, who is surprisingly idealistic, demands that no man of hers will do such a thing, and the two soon have a showdown.
News & Interviews for The Misfits
Critic Reviews for The Misfits
Audience Reviews for The Misfits
½
A film most famous for its on-set turmoil, The Misfits marks a tragic period in film history: it was both Marilyn Monroe' and Clark Gable's last film before their respective deaths, and Monty Cliff had just come off of facial reconstruction surgery following his horrific car accident -- not to mention Huston's well documented alcoholism and the imploding marriage between Monroe and Arthur Miller. When reading about all of the behind-the-scenes problems, one has to marvel that the film even got made. For me, any film that attempts to demystify the myth of the "Old West" will always be judged against the paramount example of that theme, Midnight Cowboy. To that end, The Misfits falls flat in comparison. Monroe's character's moral compass is broadly drawn and shallow, as are the half-baked themes of individual responsibility and class stratification. Huston's direction, as usual, is smart and lean, but that's about it.
Jonathan Hutchings
Super Reviewer
The struggle of flawed individuals to find a righteous modus vivendi in an unfair and indifferent world. A sense of unity despite the suffering and hopelessness among the characters touches the heart, even more when you know the actors' lives were mirroring what happens in the screen. They were also heading towards the end, and seemed to be accepting that idea, with heartrending melancholy and not without reluctancy.
Pierluigi Puccini
Super Reviewer
This movie is about despair. Despair at the passing of a way of life. Despair at disappointed hopes and dreams. Despair at the loss of a loved one, either through death, divorce or disinterest. Knowing that going in and you don't mind downbeat films there are some really moving performances from a cast full of legends.