Mishima: A Life in Four Chapters
(1985)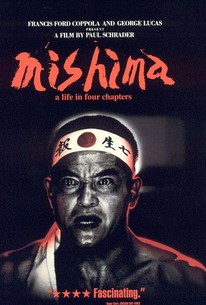 TOMATOMETER
AUDIENCE SCORE
Critic Consensus: Paul Schrader's directorial masterpiece is a classy and imaginative portrait enriched by a stunning score and impressive cinematography.
Mishima: A Life in Four Chapters Photos
Movie Info
The fragments of an autobiography by the self-destructive Japanese writer, Yukio Mishima.
Critic Reviews for Mishima: A Life in Four Chapters
Audience Reviews for Mishima: A Life in Four Chapters
Mishima is one of the oddest yet most compelling biopic films I have ever seen. The movie unfolds as a series of parts, as the title clearly states. Each part has a very different visual style and form. The story of this man's life is told, at first, through a series of his dramatic works. In contrast, the last part tells the story of Mishima's final days in a more grounded setting. Despite the heavy use of abstract sets and larger than life colors, the film feels grounded and accessible. The film is beautiful. Every part is done with a rich color scheme and a fine eye for details that perfectly set the mood of each story. There is a nearly seamless blend between each fictional character and Mishima, creating a sort of continuous narrative explaining one man. I've never seen a more creative and compelling way to tell the story of a person through their work. The first three parts are all highly abstract and surreal, but they reveal the character of the film's subject in the most direct and relatable way possible. You truly feel by the end of this film that you know Mishima's thoughts, feelings and emotional drive in the richest way a film could convey. You leave this biopic not really having any idea where he lived generally, what he ate or who he really interacted with in his life. In the end, however, you leave knowing the man more intimately than any amount of biographical facts would ever reveal. This is the story of a complex man who grappled with his identity through his art and stories. It is only fitting his own work would ultimately explain the man. Outside of its technical mastery, which ages extremely well when I watched this film decades later in 2017, there is a rich brilliant story. I think this film exemplifies a cardinal rule in film making, never tell the audience what they already know. There is compelling and well-handled look at complex themes like sexual identity, artistic struggles and an immediate need to find meaning in everyday life. You can see, through Mishima's art, all of these wonderfully complex struggles in the fewest words and pictures possible. I think that compact simplicity is why this film is so excellent. There is a seamless blend between fictional characters and their creator. I could not really tell you what characters where in each part, I am pretty sure they're all just extensions of the same man. We are not defined by one struggle, but a handful of impactful intense moments . A truly excellent film that works on many levels.
Shane Sackman
Super Reviewer
½
Mishima is difficult to characterize. It is something of a biographical essay about purity, beauty, art, idealism, action, and death. The exploration of themes and the direction of the film give a very 60s feeling to it. Mishima is interesting and I may have rated it higher except for the fact that it is also confusing and I found it difficult to tell who was Mishima versus a character from his fiction since it jumped around in time and I was totally unfamiliar with his biography. As someone who dislikes spoilers, I'd nonetheless recommend that others go ahead and read his biography before watching (and I do recommend the film).
Robert Brogan
Super Reviewer
Mishima's life, and all it's contradictions, is perfectly captured by Schrader in a biopic done right. The film embodies all the passions and obsessions of it's subject, with Ogata's performance and a great score this one stands apart from the rest of theconventional, and empty, bios circulating on hollywood. Movies done with such ambition, and precise touch, are even more rare these days.
Tsubaki Sanjuro
Super Reviewer
Mishima: A Life in Four Chapters Quotes
There are no approved quotes yet for this movie.