Miss Bala
(2019)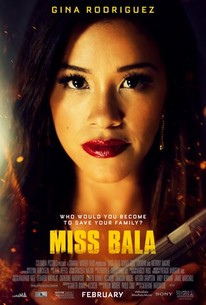 TOMATOMETER
AUDIENCE SCORE
Critic Consensus: Miss Bala suggests Gina Rodriguez has a future as an action hero; unfortunately, it also demonstrates how hard it is to balance set pieces against a compelling story.
Movie Info
Gloria (Gina Rodriguez) finds a power she never knew she had when she is drawn into a dangerous world of cross-border crime. Surviving will require all of her cunning, inventiveness, and strength.
News & Interviews for Miss Bala
Critic Reviews for Miss Bala
Audience Reviews for Miss Bala
This is a very different version of the Miss Bala story, and for the purposes of this review and critical clarification, I think it would be helpful to reprint my brief analysis of the 2011 film for easier comparison. So here is my 2011 review in full: "Miss Bala (Mexico's foreign film Oscar entry for 2011) is an unwavering, startling, and deeply tense movie about one woman's tragic and unwilling association with a powerful drug cartel. Laura (Stephanie Sigman) wants to be the next Miss Baja California, but she's unwittingly pulled into a life of crime after she witnesses a gang hit. The cartel ensures that Laura wins the beauty pageant and becomes a courier for them. The movie takes a Lars von Trier approach to storytelling, putting its heroine through a torture chamber of anxiety and terror. This woman only wants to escape the hell she has accidentally found herself a part of, but every attempt to escape, be it going to the police or confessing assassination plots to the intended targets, gets her corralled back into the fray. For Laura, there is no escape. The movie packs a near-constant surge of paranoia, as we fear that at any time something awful will happen. In fact it's usually only a matter of time. Laura is more a symbol of the collateral damage of Mexico's billion-dollar drug war than a character, and she kind of becomes a numb zombie by the movie's latter half, perhaps accepting her doomed fate. Director Gerado Naranjo favors long unwinding takes and handheld cameras, which add a gritty realism and sense of compounding dread to the picture. The movie has an unflinching level of realism to it that makes it all the more haunting, stripping the romanticism from a life of crime. Much like Italy's heralded crime film Gomorrah, this bleak but impassioned movie shows the inescapable tentacles of organized crime and gives a face to innocents caught in the middle. Miss Bala is a testament to the hidden toll of a nation at war with itself." That sounds like a pretty interesting movie, right? It is and is worth checking out regardless of your feelings for the 2019 Miss Bala. The original protagonist was simply a victim of being in the wrong place at the wrong time, and as a result she became a pawn in a larger game of leverage between warring factions. Her entire goal was to simply escape the terrible danger she was in, but every refuge just put her back into the fray or used her for their own devious purposes. The protagonist wasn't completely passive since she's constantly reacting to the dangers and dangerous men around her, assessing her ability to escape, who she can trust and when, but she is decidedly less empowered. That is the biggest divergence with the 2019 Miss Bala, making our protagonist an empowered woman who struts in slow-mo in a ball gown and an automatic weapon, the kind of image you'd see in any number of schlocky Michael Bay action thrillers. Over the course of her harrowing experience, Gloria becomes a Strong Woman, a Fighter Who Fights Back, whereas the protagonist of the 2011 film, Laura, was just trying to be a Survivor first and foremost. There's a distinct difference in intention and execution there. One is curated with more realism and the other becomes a revenge fantasy. One is meant to disquiet and jar a crowd and the other is meant to be a fist-pumping crowd-pleaser. I'll admit there was less action in the 2019 Miss Bala than I had feared from the commercials. However, the action that does occur is indistinguishable from other bigger budget crime shootouts. You've got grenade launchers, exploding cars, nightclub shootouts, and other cliche moments handled in relatively cliche ways. There is a final confrontation between Gloria and one of her chief antagonists that includes the line, "I did what I had to do. We both did!" I'm stunned they didn't feel the need to have the villain denote, "You know you and I are not that different." Actually, now that I think about it, I'm fairly certain this scene did exist between these characters, with the guy talking about his American upbringing as a means of making connections with her. What I'm ultimately saying is that 2019 Miss Bala kind of misses the point of 2011 Miss Bala. It's like using the Iron Giant, a figure of pacifism ("I am not a gun") into a weapon of war (ahem, Steven Spielberg, Ready Player One). I would thoroughly recommend the 2011 Miss Bala for fans of thoughtful, intense, and affecting thrillers. The paranoia and dread were strong throughout that combustible movie that had more on its mind than some cheap thrills. Comparatively, the 2019 Miss Bala remake feels only designed for cheap thrills and a misguided empowerment message. As the main character is turned from a survivor into a fighter, the edges smooth out, the complexity gets distilled, and the movie becomes any other number of action thrillers where our fragile, scared character becomes an avenging angel by the climax. If that's your recipe for an enjoyable movie, 2019 Miss Bala still has problems with its execution and poor development. You won't regret watching the new Miss Bala but your time would be better spent watching the original film and hoping better for Rodriguez. Nate's Grade: C
Nate Zoebl
Super Reviewer
Miss Bala Quotes
There are no approved quotes yet for this movie.