Miss Pettigrew Lives for a Day
(2008)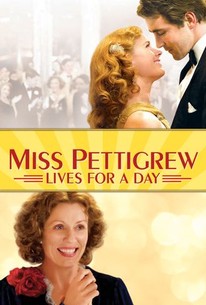 Miss Pettigrew Lives for a Day Photos
Movie Info
In 1939 London, Miss Guinevere Pettigrew is a middle-aged governess who finds herself once again unfairly dismissed from her job. Without so much as severance pay, Miss Pettigrew realizes that she must--for the first time in two decades--seize the day. This she does, by intercepting an employment assignment outside of her comfort level--as "social secretary." Arriving at a penthouse apartment for the interview, Miss Pettigrew is catapulted into the glamorous world and dizzying social whirl of an American actress and singer, Delysia Lafosse. Within minutes, Miss Pettigrew finds herself swept into a heady high-society milieu--and, within hours, living it up. Taking the "social secretary" designation to heart, she tries to help her new friend Delysia navigate a love life and career, both of which are complicated by the three men in Delysia's orbit; devoted pianist Michael, intimidating nightclub owner Nick and impressionable junior impresario Phil. Miss Pettigrew herself is blushingly drawn to the gallant Joe, a successful designer who is tenuously engaged to haughty fashion maven Edythe--the one person who senses that the new "social secretary" may be out of her element and schemes to undermine her. Over the next 24 hours, Guinevere and Delysia will empower each other to discover their romantic destinies.
News & Interviews for Miss Pettigrew Lives for a Day
Critic Reviews for Miss Pettigrew Lives for a Day
Audience Reviews for Miss Pettigrew Lives for a Day
Cast: Frances McDormand, Amy Adams, Ciarán Hinds, Clare Clifford, Sarah Kants, Shirley Henderson, Lee Pace, Mark Strong Director: Bharat Nalluri Summary: When her gruff demeanor costs her yet another nanny position, desperate Guinevere Pettigrew (Frances McDormand) wangles a job as the assistant of an aspiring American actress (Amy Adams) and soon gets swept up in a dizzying world of glamour and high society. Ciarán Hinds, Lee Pace, Shirley Henderson and Mark Strong also star in this charming 1930s-era comedy based on Winifred Watson's best-selling novel. My Thoughts: "A charming little love story. Shows you how so much can change in just one day. I loved Frances McDormand as Miss Guinevere Pettigrew. She was funny, smart, and true to herself. Amy Adams as Delysia Lafosse was great. She was such a fun bubbly person that definitely needed a little help in the relationship area. Edythe was a spiteful character. I was glad how things ended up for her. The two love stories are cute and in the end will leave a smile on your face."
♥˩ƳИИ ƜѲѲƉƧ♥
Super Reviewer
The movie has almost no plot complications or suspenseful moments, yet I love it SO MUCH! It's a floating, pattering, whirling confection of a movie, and Amy Adams fits snugly inside Delysia Lafosse. I think she can have a tendency to be pigeonholed into the ingenue role, but she seizes anything that is thrown at her and you can tell she truly delights in whatever she does, no matter how small or predictable her role is. I love the concept of stuffing a movie into a DAY; the vision of people rushing breathlessly around to fit their events in a day is not something often explored and was executed magnificently!

Admittedly the story is not much but that is really the essence of the movie - it entertains and delights, but afterwards you can't really remember what happened, just that you were put in the best mood ever while watching it.
Jennifer Xu
Super Reviewer
Lee Pace and Amy Adams give their usually cute performances while Frances McDormand proves yet again that she can pull any film by its coat tails.
Spencer S.
Super Reviewer
Miss Pettigrew Lives for a Day Quotes