Miss Potter
(2007)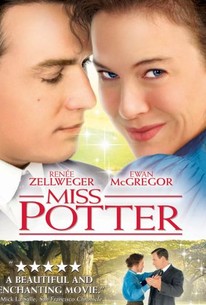 Movie Info
This biography of children's author Beatrix Potter explores how she overcame a domineering mother and the chauvinism of Victorian England to become a best-selling author.
News & Interviews for Miss Potter
Critic Reviews for Miss Potter
Audience Reviews for Miss Potter
I've always considered Renée Zellweger to be average actress. She's talented, but she's picked many questionable projects that simple didn't have any resonance with me. However, with Miss Potter, a biography drama film on the life of children author Bellatrix Potter ranks as her finest piece of work of her career. With an entertaining, rich story, the film is a well paced picture that is engaging from the first moment right up to end. Zellwegger does some great work here, and of all her films that I have seen of hers, this is her best. She brings a certain charm to her role, and makes it her own and it adds so much depth to overall film that it's easy to forget its flaws. With that being said, the film falls short of what it could have been, as it's a film that is a bit too short. I would love to have seen a longer film of Bellatrix Potter's life, and that's where the film doesn't quite get there. The film tries to add so much content into its run time that some important details of her life are never mentioned. However, Zellwegger's performance is what makes this film so good, and her chemistry that she has with actor Ewan McGregor is quite good, and throughout the film there's a feel atmosphere that really stands out in the film. I quite loved the film, and this one really surprised and I didn't expect to enjoy it as much as I did. Aside from its short run time, and the fact they add too much material, which kind of makes the film a bit uneven, overall Miss Potter is a very good movie, one that is a surprising drama that is definitely worth seeing.
Charming drama about children's author Beatrice Potter's life. An intelligent child who has great talent for drawing and writing about creatures. She becomes a successful author in a stuffy Victorian England. She is secretly engaged to her editor and first love who becomes ill. She gains independence through her writing. Delightful family movie. Great cast and story.
Candy Rose
Super Reviewer
Beatrix Potter! Yay! Five stars
Renée Zellweger, no stars, They must've cast around for a good actress and then when no one called . . . Read the Potter stories and forget this borat.
How long? How long? How long can Zellweger get acting jobs? Freakin A unbelievable . . .
Lanning : )
Super Reviewer
Miss Potter Quotes
| | |
| --- | --- |
| Beatrix Potter: | You think that's lucky? Your mother is a monster! No, its fine. My mother and I have come to an understanding. We've agreed to not understand each other. |
| | |
| --- | --- |
| Beatrix Potter: | There's something delicious about writing those first few words of a story. You can never quite tell where they will take you. Mine took me here, where I belong. |