Missing Link
(2019)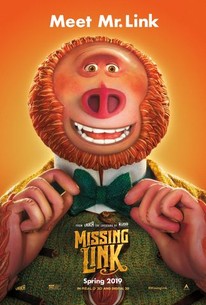 TOMATOMETER
AUDIENCE SCORE
Critic Consensus: Another beautifully animated triumph for Laika, Missing Link is a visual treat with lots of humor, plenty of heart, and even a little food for thought.
Movie Info
This April, meet Mr. Link (Galifianakis): 8 feet tall, 630 lbs, and covered in fur, but don't let his appearance fool you... he is funny, sweet, and adorably literal, making him the world's most lovable legend at the heart of Missing Link, the globe-trotting family adventure from LAIKA. Tired of living a solitary life in the Pacific Northwest, Mr. Link recruits fearless explorer Sir Lionel Frost (Jackman) to guide him on a journey to find his long-lost relatives in the fabled valley of Shangri-La. Along with adventurer Adelina Fortnight (Saldana), our fearless trio of explorers encounter more than their fair share of peril as they travel to the far reaches of the world to help their new friend. Through it all, the three learn that sometimes you can find a family in the places you least expect.
News & Interviews for Missing Link
Critic Reviews for Missing Link
Audience Reviews for Missing Link
The stop-motion animation wizards at Laika have made some of the most charming and visually impressive movies of the last few years, including The Box Trolls, Kubo and the Two Strings, and ParaNorman. They've built up enough trust that I will see anything that they attach their name to. Missing Link is probably their least successful big screen effort yet, though that still means it's only perfectly fine rather than great-to-amazing. It's a heartfelt buddy comedy about a Bigfoot creature (voiced by Zach Galfianakis) that seeks out mentorship from a dashing adventurer (Hugh Jackman). It's a sweet story but not fully emotionally engaging because the characters are fairly simplistic. There isn't a lot of depth here and, surprisingly, more crass jokes aimed at a younger audience than their earlier output. From a visual standpoint, it's beautiful with vibrant colors and fluid animation that has become indistinguishable from CGI nowadays. The action set pieces, usually appearing at a regular clip with each new location change, are fun and have their clever moments, like a capsizing ship that reminded me of the spinning Inception hallway. It's an amusing, lower tier animated movie for Laika, but I'm worried that there might not be more of these movies the way they're going at the box-office. Laika was treading financial water with excellent movies, and anything "less than" seems like it could possibly tip the independent animation production company over for good. Missing Link is a cute, mostly harmless, mostly entertaining movie that just doesn't have the same ambitions and level of execution that previous Laika films have had. With that being said, it's still worth a watch on the big screen for any animation aficionado. Nate's Grade: B
Nate Zoebl
Super Reviewer
After the masterpiece that was Kubo and the Two Strings, it was perhaps unfair to expect the next Laika film to measure up. It is deeply saddening to criticize a clear labor of love, but Missing Link is a significant step down from the narratives we've seen from the studio thus far. Favoring a standard cross country journey over the more thematic and intimate depth we've seen in Paranorman and Coraline, MIssing Link is an occasionally humorful but frustratingly dull film. The filmmakers had a simple story to tell but instead of telling it simply and elegantly with heart, they opt for a sitcom-esque pileup of comedic action sequences and highly dull characters. There is no personality whatsoever in the film's lead character. And while Susan is charming, he is often sidelined in favor of the adventurer. There is an appreciated edge to the humor of the film, a staple of Laika, but it never plumbs the depths of the audience's heart. It is a very simple story, which may seem disappointing to some expecting Kubo levels of complexity, but simple stories effectively told are often just as powerful. This film doesn't even really tell a story. The narrative just kind of lackadaisically happens instead of feeling organically composed. The animation is spectacular as usual, although I'd love to see more of that handmade feel in Laika's previous film. The stop-motion is almost so fluid, it nearly is Pixar-esque. Stop-motion always has a tactility to it that is pleasing to the eye and this is no different, but the fluidity of motion is so well-executed, it doesn't appear nearly as handmade as it used to. Missing Link is charming and cute, but it is severely disappointing and hollow in comparison with anything the studio has thus delivered. Rating:59
Missing Link Quotes
There are no approved quotes yet for this movie.