El Lince Perdido (Missing Lynx)
(2008)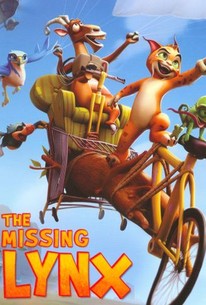 AUDIENCE SCORE
Critic Consensus: No consensus yet.
El Lince Perdido (Missing Lynx) Photos
Movie Info
As co-helmed by Manuel Sicilia and Raul Garcia, this CG-animated, Spanish-language children's adventure (translated as The Missing Lynx: Paws on the Run for its release in English-speaking countries) originated via the production efforts of Antonio Banderas, though his is not one of the voices on display. The premise concerns a millionaire who becomes obsessed with the idea of constructing a new Noah's Ark - and hires a hunter to kidnap untoward numbers of animals to make this happen. The film follows the animals amid their valiant attempt to escape from the hunter's clutches, foil his nefarious plans, and free their captured friends.
Critic Reviews for El Lince Perdido (Missing Lynx)
All Critics (2) | Fresh (1) | Rotten (1)
It's a dispiriting picture that's content to coast on moldy formula and threadbare technical achievements to entertain. Your kids deserve better.
Action-packed endangered species story, with potty humor.
Audience Reviews for El Lince Perdido (Missing Lynx)
Poor animation, cliched and annoying characters, pointless story and just a totally made for young children type of film.
Chris Browning
Super Reviewer
½
Not a bad movie by any means. Netflix is shit, because the movie is originally in Spanish. I didn't know this until searching on my phone halfway through the movie, but netflix only offered the English dub. I think this is bullshit, because I prefer to watch the movie in its original language, even if I have to read subtitles. Since this is an animated movie that I had no idea was in Spanish, then I didn't mind as much. Anyway yea, this movie wasn't bad but it wasn't really a high quality film. I think the character models left a lot to be desired, the script wasn't that great, and the voice acting wasn't great either. But I thought the movie had some pretty clever moments. Like the minesweeper scene was quite funny. And some of the exterior backgrounds looked really good. Where the animation failed, as I mentioned, was the character models. It looked like the models of a cgi tv show, where the budget isn't as high. For all I know this was a tv movie in Spain. But yea, it has some clever moments and some of the backgrounds look impressive, but there's not enough of either to make the movie better than average.
Jesse Ortega
Super Reviewer
El Lince Perdido (Missing Lynx) Quotes
There are no approved quotes yet for this movie.