Mission: Impossible Ghost Protocol
(2011)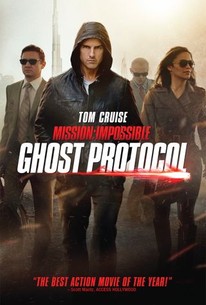 TOMATOMETER
AUDIENCE SCORE
Critic Consensus: Stylish, fast-paced, and loaded with gripping set pieces, the fourth Mission: Impossible is big-budget popcorn entertainment that really works.
Mission: Impossible Ghost Protocol Videos
Mission: Impossible Ghost Protocol Photos
Movie Info
This is not just another mission. The IMF is shut down when it's implicated in a global terrorist bombing plot. Ghost Protocol is initiated and Ethan Hunt and his rogue new team must go undercover to clear their organization's name. No help, no contact, off the grid. You have never seen a mission grittier and more intense than this. -- (C) Paramount
News & Interviews for Mission: Impossible Ghost Protocol
Critic Reviews for Mission: Impossible Ghost Protocol
Audience Reviews for Mission: Impossible Ghost Protocol
An exhilarating, action-driven installment in which the script is clearly the least important, since this is more than anything else a pretty awesome excuse for a lot of badass chase scenes, insane car crashes, elaborate set pieces and more fascinating ultra-high-tech equipment.
Carlos Magalhães
Super Reviewer
Your mission, should you choose to accept it: steal something impossible to steal from a place impossible to get at and do it in a impossibly short amount of time. How to do it? We'll give you impossible tools. Which is to say this spy franchise sets its own imaginary bar and then says it achieves that mark. Exciting music and stunts to follow. Still, fun, if unbelievable, and typical spy fantasy stuff.
Kevin M. Williams
Super Reviewer
Well well Mr Cruise you certainly are looking your years these days, no matter how much makeup you trowel on yourself you can't hide it Sir. Yep, despite the clear amounts of money he spends to try and keep himself looking about 35, Mr Cruise is really starting to look out of place in these types of films. His dyed over straightened hair changes shape in almost every scene and his skin complexion is looking shaky with many wrinkles breaking through, he wouldn't admit it but I think Bluray is a fresh curse for these ageing movie heart throbs. So a thoroughly middle aged Cruise leaps n bounds around yet another impossible mission with his rather oddly cast team of specialists. The first film was quite decent and slightly unique, almost a young 'Bond' adventure, the second had pretty visuals but was merely a huge ego trip for Cruise while the third is possibly the best as a serious action film but not overly violent or bloody. The main big issue with this fourth film is thus, we all knew everything about the film before it was released, the big flashy stunt in Dubai was no surprise, with all the hype they killed any big surprises in the film. This problem, although a common issue, wasn't the only problem of the over hyping, the other HUGE problem was that one stunt basically made this film a one trick pony. By this I mean the rest of the film is really rather mundane, nothing special, the only good tense fun part is the Burj Khalifa stunt and that's it, after that its back to being rather mundane again. That is how I saw this film, I really wanted to see the Burj Khalifa stunt, it looked amazing and I was shocked to hear Cruise had done such an extreme stunt, when I saw the sequence I wasn't disappointed either as its a very sweaty palm inducing scene and executed brilliantly. But that was it, the whole film revolved around that one stunt! I was merely watching and waiting to see that stunt, like waiting for the Titanic to sink in 'Titanic' or the attack on 'Pearl Harbour' in 'Pearl Harbour'...the rest was just filler. Don't get me wrong the rest of the film is fine its just not particularly exciting, impressive or sensible that's all. The cast are all average, the humour is average, the ending is weak and Cruise never seems to get hurt much despite falling from great heights many times, jumping out of speeding cars or even driving a car deliberately off a ledge from a huge height (the dumbest least believable scene), he also never seems to have to fight anyone that actually looks threatening. In short the film is average accept for that one sequence in Dubai, the third M.I. film is still the best as this new one really seems to be pushing the boundaries of how much of a believable pummelling and battering Ethan Hunt can take. We get it Tom...your the unstoppable action hero...even at 50.
Phil Hubbs
Super Reviewer
Mission: Impossible Ghost Protocol Quotes
| | |
| --- | --- |
| William Brandt: | 23 minutes till door knock. |
| Ethan Hunt: | Your countdown, is not helping! |
| | |
| --- | --- |
| William Brandt: | [After Ethan ropes down the Burj, only to stop] Your line's not long enough! |
| William Brandt: | Your line's not long enough! |
| Ethan Hunt: | NO SHIT!!! |
| Ethan Hunt: | No shit! |
| | |
| --- | --- |
| Brji Nath: | Are you impressed yet? |
| | |
| --- | --- |
| Ethan Hunt: | Saturn, take the leap. |
| William Brandt: | [exhales deeply] Ok. [clears throat] Jumping. Jumping now. Jump now? |
| Ethan Hunt: | Yes, commit, jump. |