Mission to Mars
(2000)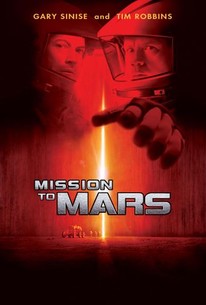 Movie Info
Brian De Palma directed this science-fiction suspense story. When the United States sends its first manned mission to Mars, hopes are high for new scientific discoveries, but many of those hopes are dashed when the Mars crew meets an unexplained disaster; three members of the mission are killed, and a fourth (Don Cheadle) loses all radio contact with the Earth. A rescue mission sets out to bring back the one survivor; in the process, they discover that Mars may not be a dead planet after all, and uncover some startling evidence about the fate of their predecessors. The rescue crew includes Gary Sinise, Jerry O'Connell, Connie Nielsen and Tim Robbins. The screenplay was partially by award-winning playwright Ted Tally, who won an Oscar for his adapted screenplay of The Silence of the Lambs.
Critic Reviews for Mission to Mars
Audience Reviews for Mission to Mars
What a ridiculous pseudo-philosophical sci-fi that makes no sense. Morricone's score is beautiful as always, but the horrid script is utterly implausible and illogical, with a blatant disregard for details and coherence.
Carlos Magalhães
Super Reviewer
This was the first of two films released in 2000 that detailed trips to Mars. Incidentally, both movies were also quite poorly received by critics and audiences. Either people just had a hate for our neighboring planet, or we just coincidentally happened to get two similar bad films in the same year. The kicker with this one is that there's a good and interesting concept and ideas going on, and talented people involved, but things end up being a big messy failure. I place some blame on Brian De Palma, whose direction seems really lazy , and the screenwriters, who deliver a poorly written script with way too much cribbing from many far better films. And then there's also the characters, who should be smart since they're scientists, but act really dumb and unprofessional. I would like to say that the actors involved tried, since they are talents like Gary Sinise, Don Cheadle, and Tim Robbins, but even they seem to be sleeping through things, and failure to be all that compelling or interesting. At least Connie Nielsen is there to function (for straight men anyways) as a bit of eye candy. Even for 2000, the special effects are laughably bad, and really undercut any credibility of the movie or the developments of the plot they are connected to It's hard to take any of this seriously, and it's painful to look at. Like I said though, the film does have a nice concept to it, which is as follows: man's first trip to Mars doesn't end well, so another team is sent to rescue any survivors and figure out what happened. When the second team arrives, they discover some startling revelations where humanity and life are concerned. Having seen this after seeing Prometheus, I can't enjoy this as much sicne both are quite similar, but not entirely the same. That film was at least better acted, well made, and actually had some excitement to it. This one is just boring and dull. Since its De Palma, there is some decent camera work, and at least one trademark long take, but nothing all that great like in some of his other films. The only real thing that's without a doubt good is the score by Ennio Morricone. It's far from his best work, but it's still pretty good, and does save the movie from being a total failure. It's just too bad it's not associated with something better. Despite his influence and skill, De Palma remains a real hit and miss director. I tried to give this one a chance, but I can easily see why this is clearly one of his worst.
Chris Weber
Super Reviewer
A disappointing '2001' wannabe concerning a group of astronauts (led by Gary Sinise) who venture to Mars to rescue the lone survivor (Don Cheadle) of the first manned mission, but discover that there may be more to the planet than meets the eye. What could have been a nice little sci-fi philosophical exercise such as the recent "Prometheus" is instead a bloated, bad melodrama which takes too long to get to its destination. Granted, de Palma's creation of Mars is certainly impressive, and there is the potential that this could turn into something great that makes you keep watching. Alas, that never happens, with an ending that feels like such a a hackjob, it will be sure to piss off many viewers at its conclusion.
Dan Schultz
Super Reviewer
Mission to Mars Quotes
There are no approved quotes yet for this movie.