The Missouri Breaks
(1976)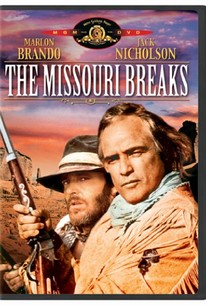 The Missouri Breaks Photos
Movie Info
A rancher, a rustler, and a regulator face off in Arthur Penn's eccentric western. As a cover for their horse thievery, a gang of Montana rustlers, led by the laid-back Tom Logan (Jack Nicholson), buys a small farm adjacent to the ranch of their latest target/nemesis, Braxton (John McLiam). When the gang leaves Tom on the farm and heads to Canada for another score, Tom takes a shine both to farming and Braxton's rebellious, strong-willed daughter, Jane (Kathleen Lloyd). The slightly loco Braxton, however, hires the psychopathic regulator Lee Clayton (Marlon Brando) to root out the rustlers. With a series of unorthodox methods (and costumes), Clayton hunts down Logan and his gang one by one, even after Braxton fires him, but Logan isn't about to let Clayton (or Braxton) make him obsolete. ~ Lucia Bozzola, Rovi
Critic Reviews for The Missouri Breaks
Audience Reviews for The Missouri Breaks
Who would think that a movie with two of the greatest actors ever would be so horrible? I saw this one on TV, and it was so incredibly slow and boring, I couldn't watch the whole thing.
This goes from being a very odd movie to a very good movie about half way in, which is actually why it's so interesting. Jack Nicholson really gives the better performance here, both his character and mannerisms are so natural and deeply thought out. Marlon Brando essentially went crazy for his role, which ends up being more scary than funny in the end. I really like the twist sense of mortality and the way murder is such a big part of the story. When the characters meet their fate, it's hardly glorious. It reminds me of what Clint Eastwood later played with in Unforgiven.
Conner Rainwater
Super Reviewer
½
This is such a peculiar movie... it should have been great, considering the dynamic and powerful combination of actors under the direction of Arthur Penn. But it's a distant, sometimes tedious picture that I only enjoyed for the colorful, creative performances from Brando and Nicholson. As a huge fan of both actors, I liked watching the movie. I would assume that most viewers would not.
The Missouri Breaks Quotes