Mister 880
(1950)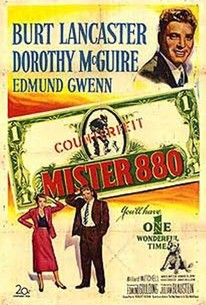 AUDIENCE SCORE
Critic Consensus: No consensus yet.
Movie Info
Based on a true story, Mister 880 is the whimsical tale of an elderly gentleman (Edmund Gwenn) who dabbles in counterfeiting. He makes only enough "funny money" to support himself, but the fact that his work is so amateurish (he can't even spell "Washington") arouses the indignation of the treasury department. Burt Lancaster, the hard-nosed treasury agent put on the case, is determined to prosecute the miscreant to the full extent of the law. In tracking down a lead, Lancaster falls in love with Dorothy McGuire, a recipient of one of the phony bills. Lancaster discovers that McGuire lives in the same building as Gwenn, and after piecing together the clues arrests the old fellow. Softened by Gwenn's naivete, Lancaster and Ms. McGuire arrange for a compassionate lawyer to lessen what would otherwise be a stiff prison sentence. Mister 880 was to have starred Walter Huston as the ingenuous counterfeiter, but Huston died just before filming started.
Critic Reviews for Mister 880
Audience Reviews for Mister 880
Mild story but its put across by the great cast who make it more enjoyable than the thin storyline would normally be.
Mister 880 Quotes
There are no approved quotes yet for this movie.