Hallam Foe (Mister Foe)
(2007)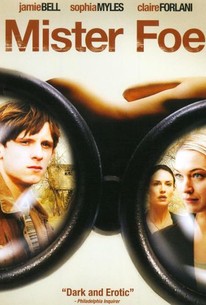 TOMATOMETER
AUDIENCE SCORE
Critic Consensus: Carefully balanced between the dark and the dreamy, Mister Foe is a charged coming-of-age story with whimsy and bite.
Hallam Foe (Mister Foe) Photos
Movie Info
Jamie Bell's performance as a lonely Scottish teen rings true in this poignant, yet humorous, coming-of-age tale. He plays Hallam Foe, who runs away to Edinburgh and meets a beautiful hotel worker (Sophia Myles) who looks like his late mother, who committed suicide. Claire Forlani costars as his stepmother, whom he believes actually killed his mom. Ciaran Hinds, Ewen Bremner, Ruth Milne. Directed by David Mackenzie, who co-wrote the script with Ed Whitmore. Also known as "Hallam Foe."
News & Interviews for Hallam Foe (Mister Foe)
Critic Reviews for Hallam Foe (Mister Foe)
Audience Reviews for Hallam Foe (Mister Foe)
½
A teenage stalker with enough Oedipal issues to make Freud puke in his soup pursues his boss, a sweet but disturbed hotel manager. What this film lacks most is focus. At the beginning the plot tends toward a thriller/mystery vis-a-vis the possible murder of Hallam's mother, but the most unbelievable circumstances (fucking his step-mother in his tree house) push Hallam to Edinburgh where we meet Sophia Myles's character, Kate. Myles is a beautiful actress, and as Kate she walks with confidence and wherewithal. With hobbies, a fine job, a sense of compassion, and a sociable disposition, Kate seems like she has it all together. Yes, she's fucking her married boss, and yes, she does say, "I like creepy guys," but when Hallam's stalking, amateur spy behavior is revealed, her reaction defies all believability. I can imagine the film becoming a believable story about lost people who find each other and accept each other's fucked-up-ness, but with Myles as Kate and the dead mother plot stopping by every now and then as though it's checking up on how the film is progressing, the film becomes a muddled mess that has its sexy, alluring moments but ultimately sinks into a depravity that we can't follow without suspending every disbelieving bone in our bodies. Overall, bad casting and worse writing keep this film from being anything worth watching.
Jim Hunter
Super Reviewer
½
Awkward and engrossing movie that overcomes its unlikable lead by making him confused and relatable. It's a very difficult performance Bell has to pull off in this movie. He must present himself as a mentally fractured peeping tom whilst all the while leading us along a romantic path. The performances and characterizations are key here. Forlani isn't exactly the evil stepmother from many movies, but she is able to carry a certain stench of menace. Paired with Bell's confusion and creepiness, it adds up to more of an emotional mystery than a murder one. In many ways it's a wonderful coming of age tale, that delicately approaches the mind of a teenager. It bridges the gaps between anger, madness, and danger. At times it tries to be a bit too hip, with it's constant twangy soundtrack, but at least it works nicely with the dull but mesmerizing cinematography.
Luke Baldock
Super Reviewer
This unusual film was a fantastic journey with the awkward lead character, Hallem Foe, as he pursued his voyeuristic impulses. No spoiler here. The acting was convincing despite the fantastic episodes. Cleverly crafted to form an intense yet warm & funny original work.
Cynthia S.
Super Reviewer
Hallam Foe (Mister Foe) Quotes
There are no approved quotes yet for this movie.