The Mists of Avalon
(2001)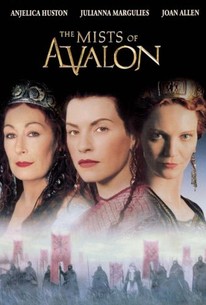 Movie Info
Based on the best-selling novel by Marion Zimmer Bradley, this made-for-cable fantasy epic examines the legend of King Arthur and Camelot from the perspective of the women who manipulated the reigns of power. As the citizens of the British Isles fight to protect their homelands, there comes a divide between those who have embraced Christianity and others who still worship the "old gods" of Paganism. Viviane (Anjelica Huston), the Lady of the Lake, is the ruling Pagan priestess who presides over the Isle of Avalon; determined not to lose her power to the rising tides of Christianity, Viviane uses her wiles and influence to bring Arthur (Edward Atterton), a potentate who has brought Pagan and Christian forces together, to the throne. Viviane's niece, Morgaine (Juliana Margulies), proves to be instrumental in helping Viviane carry out her plan, but Morgause (Joan Allen), Morgaine's sister, becomes bitterly jealous of her sister's privileged status, and uses her own considerable powers to bring down Viviane. Produced for the TNT cable network, The Mists of Avalon originally aired in two parts, beginning July 15, 2001.
Critic Reviews for The Mists of Avalon
Audience Reviews for The Mists of Avalon
I was about to say that this is the most sick, twisted, disgusting story I've ever heard of... but then I did some research on other Arthurian lore and found that this version is quite tame compared to some others out there. I've seen the movie The Sword in the Stone, the musical Camelot, the movie King Arthur, read the story Excalibur and the poem The Lady of Shalott but this takes the cake for the version I've seen that's the darkest and grittiest. First, Viviane forces Igraine to lose her husband and marry another man and have a child with this man. That child (Arthur) is forced to be separated from his parents and beloved sister Morgaine and then forced (unknowingly) to have sex with that sister in which a child is born (Mordred.) Then, since his wife is unable to produce an heir, he forces her to have a threesome with his best friend (Lancelot) who is also the man she secretly loves. It is at this point in the movie (although I almost turned it off at two other points) that I decide to finish the unbearably long and insufferable movie by fast forwarding through sections. It was only out of sheer morbid curiosity that I finish it to find out the ending. The movie made me sick to my stomach and angry. It was also quite possibly the most sacrilegious film I've ever encountered. The end though about Mary the mother of Christ being worshiped as a goddess isn't far from the truth though I'm sure some Catholics would disagree and find this movie extremely blasphemous. There is nothing really good to say about this movie. I was thoroughly disgusted.
Dannielle Albert
Super Reviewer
½
Oooooh love a good movie about Camelot!! This version is a "dark" one, and very different than I am used to. I guess that it doesn't matter to me what version I see, just as long as it is well done. I really enjoyed this!
Cynthia S.
Super Reviewer
Sterling performances with Julianna Margulies, Joan Allen and Anjelica Huston in this long TV movie which retells the Arthurian legend from the perspective of the coomen who shaped events with spirited powers. This is my second favourite Arthurian legend story of the movie.
Dean McKenna
Super Reviewer
The Mists of Avalon Quotes
There are no approved quotes yet for this movie.