Mobsters
(1991)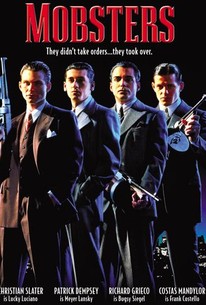 TOMATOMETER
AUDIENCE SCORE
Critic Consensus: Despite an abundance of style and some big names, Mobsters can't escape its empty plotting, numbing violence, and Gangster Movie 101 concepts.
Movie Info
In this fictionalized account based on true figures, a foursome of young thugs decides to team up and take control of New York's east side from the aging bosses who control it. Bugsy Siegel (Richard Grieco) and Frank Costello (Costas Mandylor) control the physical elements of the operation, while Lucky Luciano (Christian Slater) and Meyer Lansky (Patrick Dempsey) bring up the business end.
News & Interviews for Mobsters
Critic Reviews for Mobsters
Audience Reviews for Mobsters
A silly and dull Goodfellas wannabe.
Marcus Woolcott
Super Reviewer
Maybe I saw a different movie than most because I really like Mobsters. It's basically a Young Guns type movie with a gangster setting. I guess if you only take it straight forward and don't consider the context of when and why this was made it will make no sense. Christian Slater is at his prime here and does what he does best. I can't really tell you what that is, it's just a type of atmosphere he sets that I haven't quite been able to commit to words. While him and the rest of the cast do overly slimy Italian accents and the characters are almost cartoonish in nature, that's sort've the charm with these 90s period pieces. Then you've got an almost comical take on violence because it's so overdone and every death consists of twenty bullets plastering each victims face. This is not something like The Godfather or Goodfellas, it's basically just a slightly goofy yet fun movie that showcases young hollywood stars and pits them back in the bootlegging era. While some may certainly lose their mind over this idea and call it "hollywood trash", I certainly found a lot to like in this movie.
Conner Rainwater
Super Reviewer
Huge piece of shit. I was wondering when the two Coreys were going to show up.
Mobsters Quotes
There are no approved quotes yet for this movie.