Model Shop
(1968)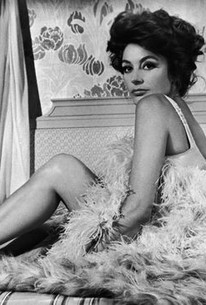 Movie Info
Note French filmmaker Jacques Demy made his American debut with Model Shop, a chronicle of the day in the life of a cynical Los Angeles architect who is despondently facing the draft, but finds renewed hope in the arms of a French nude model who took up her profession after her husband abandoned her and left her penniless.
Critic Reviews for Model Shop
Audience Reviews for Model Shop
In a word, ugh. Don't waste your time with this film. It has a low-budget, indie feel to it, which could have been a big positive, but the acting is shockingly bad. Gary Lockwood is wooden and Alexandra Hay is awful, and on top of that, the script is sleepy and uninspired. The soundtrack and brief appearance from the band Spirit is as well. There is a moment at which Lockwood gets a draft notice that feels real and of interest, bringing back a difficult period in America, but it's quickly snuffed by the lethargy of Lockwood's attraction to a model (Anouk Aimée) who can be paid to pose for risqué photos. It's quite tedious to see Lockwood slowly tooling around in his convertible in scene after scene, though it is of some interest to see street scenes in 1960's Los Angeles, and that's the best thing the film has going for it. Otherwise, director Jacques Demy even finds a way to make scenes with two beautiful stars, Aimée and Lockwood, boring. Whew.
Antonius Block
Super Reviewer
See Flixster's plot synopsis? It pretty much covers the whole film. That one sentence is practically a "spoiler." "Model Shop" (no "The" in front) is one of those self-consciously flat, empty films where nothing much happens and the dominant characters all seem blank, vacant and aimless. For reference points, think Antonioni, "Five Easy Pieces" (a far superior film) and, more recently, perhaps "Lost in Translation." Lead actor Gary Lockwood (who also appeared in "2001: A Space Odyssey" the same year) gives a fairly dull performance, even if he's *supposed* to be dull, and one learns frustratingly little about his inner life or why he sabotages himself with poor decisions. The film has none of the sparkling, cinematic magic found in more fanciful Demy works like "The Umbrellas of Cherbourg" and "Donkey Skin" and, really, the best reason to sit through the (lack of) action is probably the realistic look at everyday, late-'60s Los Angeles as Lockwood's character drives around the sunny haze of the city. Respected L.A. rock band Spirit recorded some nice bits of jazzy score for the film, and briefly appear in one scene as themselves. One member (keyboardist John Locke?) even tries some acting in a short scene with Lockwood. Thankfully, the script never sinks into the dated "Far out, man...I need bread to buy some grass"-type dialogue which one might expect from a "Hollywood youth in the '60s" flick. This is *not* a story about hippies -- the protagonist is educated and relatively clean-cut, and aims to be an architect someday. Favorite comic detail: The unmentioned agony of the main couple living directly next to a noisy oil rig.
Eric Broome
Super Reviewer
"The Model Shop" starts with George(Gary Lockwood) and Gloria(Alexandra Hay) being rudely awakened by a knock on the door from a repo man wanting to repossess his car. George stalls long enough to get an extension through the end of business but his girlfriend has seen enough, wanting a commitment and him to get a job. An architect by trade, he quit his lob in search of something meaningful to do with his life which is not that easy. On the other hand, finding the $100 necessary to keep his car is not that difficult, giving him enough time to follow an older woman(Anouk Aimee). While "The Model Shop" may have the flattest line readings on record, it still stands on its own as a curio from a different time. Viewing Los Angeles from an outsider's perspective, writer-director Jacques Demy sees an automobile culture, each car being a status item with George not being able to afford his. That does not really matter much with the draft hanging over him, not allowing him much thought for the future. Come to think of it, we're not really interested in his future; it is Lola's, continuing her story from a previous film of Demy's.
Model Shop Quotes
There are no approved quotes yet for this movie.