The Moderns
(1988)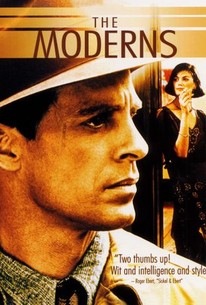 Movie Info
In this witty comedy set in 1920s Paris, an art forger becomes involved with a complicated scheme involving several of his phony masterpieces. Things spin out of control, however, when the fakes are unknowingly sold to a wealthy businessman -- who also happens to be married to the forger's ex-wife.
Critic Reviews for The Moderns
Audience Reviews for The Moderns
This is a fairly enjoyable tale set in the art world of 1920s Paris. The look of the film and the mood it creates are the most important things; far more important than the enjoyable, yet slow-moving plotline. It is highly imaginative and its representation of icons such as Ernest Hemingway and Gertrude Stein add an extra dimension to the film. The only true weak points are some of the dialogues between the two leads; it is sometimes out of place and almost too 'modern'! All the performances are good but John Lone and Keith Carradine are especially suited to their parts.
Cassandra Maples
Super Reviewer
½
[font=Century Gothic]"The Moderns" takes place in 1920's Paris where Nick Hart(Keith Carradine) is a starving artist who makes his living drawing cartoons to accompany the columns written by Oiseau(Wallace Shawn) in the Tribune.(Taking the high road, he has declined a commission to forge three Cezanne paintings for a wealthy soon-to-be divorcee, Nathalie(Geraldine Chaplin).) Nick's former lover, Rachel(Linda Fiorentino), is in town, now married to a mysterious businessman, Bertram Stone(John Lone), who is rumored to have killed a man. So, of course, Nick slaps Rachel at the salon of Gertrude Stein(Elsa Raven). Since dueling is now out of fashion, Bertram and Nick instead agree to a boxing match...[/font] [font=Century Gothic]"The Moderns" has an interesting setting and a fine cast but both are wasted in what is little more than a penis-measuring contest between Nick and Bertram. The movie is about the neverending battle between commerce and art but by not making it specifically about creating art, the film misses out on what made Paris in the 1920's special. Keith Carradine's wooden performance only hurts matters.[/font]