Modesty Blaise
(1966)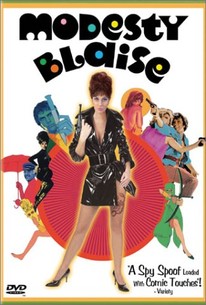 Movie Info
A popular British comic strip series served as inspiration for this light-hearted espionage adventure, which if nothing else certainly shows the marks of its origins in the mid-1960s. A large departure for director Joseph Losey, better known for brooding interpretations of Harold Pinter works (The Servant, Accident), the film is emphatically bright and colorful, taking on at times a nearly psychedelic feel. The strangeness is emphasized by the unusual casting, including Italian star Monica Vitti in her first English-speaking role as the title character and Dirk Bogarde, playing against type as her arch-nemesis. Essentially everything is played for its camp value, including the rather convoluted, James Bond-like plot, which concerns the hijacking of a shipment of diamonds heading for the Middle East. Like its mod-era sets and costumes, this unusual, inconsistent effort is certainly intriguing and attractive, but might seem rather dated to some.
Critic Reviews for Modesty Blaise
Audience Reviews for Modesty Blaise
One of my least favourite spy movies. It's more about the whole mod female spy fashion and coolness, and focuses less on plot, characters, and anything else. I didn't care for it.
So very camp. Great actors, fine director and lovely sets can't save a bad script. There are only two reasons to watch this film: 1) the fashions modeled by Vitti, and 2) die-hard fans of Dirk Bogarde or Terence Stamp.
Stefanie C
Super Reviewer
Modesty Blaise Quotes
There are no approved quotes yet for this movie.