Mogambo
(1953)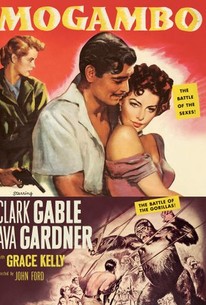 Movie Info
The 1953 Clark Gable film Mogambo is a remake of Gable's 1932 seriocomic adventure Red Dust. Where the earlier film was lensed on the MGM backlot, Mogambo was shot on location in Africa by director John Ford. Gable is safari leader Victor Marswell, who plays "host" to stranded Eloise Y. Kelly (Ava Gardner, who is no better than she ought to be but is just right for our raffish hero -- the Gardner role was originally played along franker pre-Code lines by Jean Harlow). Anthropologist Donald Nordley (Donald Sinden) hires Victor to lead him into the deepest, darkest jungle. Along for the ride is Donald's wife, Linda (Grace Kelly), outwardly cool as a cucumber but secretly harboring a lust for Victor. Scorned, Kelly tries to kill Victor, but true-blue Eloise takes the blame for the shooting. Reportedly, Grace Kelly carried on an off-camera romance with Clark Gable, which ended when the differences in their ages proved insurmountable. Even so, it is the easy rapport between Gable and Ava Gardner which stole the show in Mogambo.
Critic Reviews for Mogambo
Audience Reviews for Mogambo
½
I found this movie boring, I didn't watch the entire movie I was too bored. This is one of those jungle pictures with a little romance thrown in, and not much more. I didn't like it.
½
Pretty good "white hunter in darkest Africa" flick with Clark Gable gathering wild animals for zoos while fighting off (or not) chorus girl Ava Gardner and little rich (married) girl Grace Kelly. Cool on-location scenes. This is a remake of Red Dust, a film also starring Gable as a rubber plantation owner, with Jean Harlow and Mary Astor filling the women's roles.
Ken Stachnik
Super Reviewer
Mogambo Quotes
There are no approved quotes yet for this movie.