Momentum
(2003)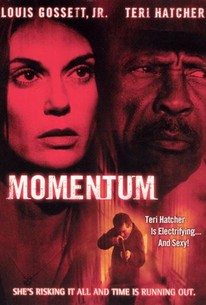 AUDIENCE SCORE
Critic Consensus: No consensus yet.
Movie Info
Throughout his life, physics professor Zach Shefford (Grayson McCouch) has regarded his telekinetic gifts as a curse rather than a blessing. This sentiment is obviously not shared by ruthless Pentagon agent Raymond Addison (Louis Gossett Jr.), who recruits Shefford for a dangerous mission in which his "second sight" talents will be taxed to the utmost. It seems that, back in 1977, Addison had overseen Project Momentum, wherein dozens of telekinetics were brought together ostensibly for the purpose of benefiting mankind. But the project got out of hand when the participants' powers became too powerful and deadly, forcing Addison to kill them all. However, one of the participants, Adrian Geiger (Michael Massee), managed to escape, and is now at large, with a vast telekinetic army at his beck and call. It is Shefford's job to infiltrate Geiger's camp and finish the job that Shefford had started. Upon falling in love with fellow telekinetic Tristen (Nicki Aycox), Shefford finds that his loyalties are wavering -- and begins to suspect that the villains in this particular melodrama may in fact be the heroes, and vice versa. The made-for-cable Momentum premiered July 26, 2003, on the Sci-Fi Channel.
Critic Reviews for Momentum
Audience Reviews for Momentum
LOL to this quote from the Movie
The world's full of strange stuff. It all started with those blue M&M's.
Momentum Quotes
There are no approved quotes yet for this movie.