Mommie Dearest
(1981)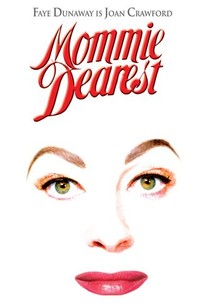 TOMATOMETER
AUDIENCE SCORE
Critic Consensus: Mommie Dearest certainly doesn't lack for conviction, and neither does Faye Dunaway's legendary performance as a wire-wielding monster; unfortunately, the movie is too campy and undisciplined to transcend guilty pleasure.
Movie Info
When her adoptive mother Joan Crawford died in 1977, erstwhile actress/author Christina Crawford was left out of Crawford's will. Christina then penned a scathing autobiography. According to this film (and the book that preceded it), Joan Crawford was a licentious, child-beating behemoth, who stalked and postured through life.
Critic Reviews for Mommie Dearest
Audience Reviews for Mommie Dearest
½
A disjointed and episodic adaptation that will appeal more to those who are curious to know about Joan Crawford's abusive relationship with her daughter, since it makes no effort in character development and is only worth it for Faye Dunaway in a histrionic, over-the-top performance.
Carlos Magalhães
Super Reviewer
½
This film is the worst kind of exploitation flick possible, and it was taken seriously in production no less! Today billed as a camp classic, and advertised as such once it was discovered for it's ludicrous content, Mommie Dearest is synonymous with bad taste and over-acting. This goes especially for lead Faye Dunaway, who portrays screen legend Joan Crawford. Based off of Crawford's adopted daughter Christina Crawford's tell-all memoir of the same name, most of the film is comprised of scenes showing Crawford abusing her daughter physically and emotionally. The film centers on the tumultuous life of the actress, who suffered from alcoholism and may have also, had a bipolar disorder. Dunaway has complained that director Frank Perry didn't know how to rein in actor's over performing and how true that statement is. Dunaway is out of control throughout, and though many actions are cruel, villainous stages of abuse, at times you feel reviled for watching something so outrageous and unrealistic. It's certainly not laugh out loud funny, because the subject is so horrible and Dunaway does do a decent job of implying the actress' sullen manner. The movie also suffers from the fact that none of the events shown have true credibility, as friends, co-stars, and an ex-husband of the screen legend have argued against the claims of the book. The film itself is very cheap looking, sets and costumes looking second-hand, wigs and backdrops almost painted on. The performances from the children are actually laughable, and the scenes of the beatings often look like a madwoman pummeling a pillow. Bits of this are incoherent and often things aren't explained in a helpful manner, which makes it difficult to piece together the true nature of the film or its content. By the middle I and my boyfriend were betting on what atrocious act would come next. From Joan Crawford's beatings, to her impeccable housekeeping, to wielding a large axe to cut down a sapling, to yelling hoarse over wire hangers, there's just too much awkward tumult for anyone to take this seriously. Actually, one feels bad for the screen siren, her daughter, and Faye Dunaway, who went as far as putting on three hours' worth of makeup to look authentic for this film. (And does) It's just a sad waste, and a bigger waste of time.
Spencer S.
Super Reviewer
A fantastic drama with great actors, and a great story, I loved it, and I highly recommend it.
Mommie Dearest Quotes
| | |
| --- | --- |
| Joan Crawford: | Why can't you give me the respect that I'm entitled to? Why can't treat me, like I would be treated by any stranger on the street?! |
| Joan Crawford: | Why can't you give me the respect that I'm entitled to? Why can't you treat me like I would be treated by any stranger on the street? |
| Christina Crawford (adult): | Because I am not, one of your fans! |
| Christina Crawford (adult): | Because I am not one of your fans! |
| | |
| --- | --- |
| Joan Crawford: | Don't fuck with me fellas! |
| | |
| --- | --- |
| Joan Crawford: | Yes what? |
| Christina Crawford (child): | Yes......mommie dearest. |
| | |
| --- | --- |
| Joan Crawford: | You drove Al Steele to his grave and now you're trying to stab me in the back? Forget it! I fought worse monsters than you for years in Hollywood. I know how to win the hard way! Don't fuck with me, fellas! This ain't my first time at the rodeo. |