Mona Lisa
(1986)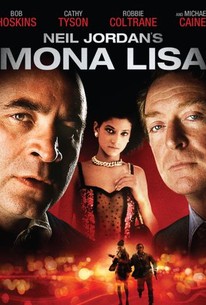 Movie Info
Bob Hoskins plays George, a tough but basically goodhearted British mob flunky, recently released from prison, where he'd served a term to cover up for his gangster boss (Michael Caine). Still willing to be everyone's doormat, George agrees to act as chauffeur for Simone (Cathy Tyson), a haughty, high-priced call girl. They don't like each other at first, but George begins to fall for her and take a protective interest. She implores him to help her find her only truly friend, a prostitute named Cathy (Kate Hardie). Touched by this devotion, George locates the girl, only to be chagrined to learn that Simone and Cathy are lovers. Hoskins is used and abused by so many people in Mona Lisa that when the worm finally does turn, you feel like cheering--even though it doesn't make him any happier. Director Neil Jordan cowrote this study of underworld mores with David Leland.
News & Interviews for Mona Lisa
Critic Reviews for Mona Lisa
Audience Reviews for Mona Lisa
½
A riveting, intelligently scripted drama concerning an ex-con (Bob Hoskins) fresh out of prison, who picks up a job as a driver for a high-priced prostitute (Cathy Tyson), who he eventually becomes infatuated with to the point where he makes a concerted effort to track down a close friend of hers that she lost in the dangerous business. An extremely well-paced, arresting tale full of twists, anchored by a ferocious, phenomenal performance from the always under-rated Hoskins makes this film a gem. The story is terrifically written, with a realistic, heart-wrenching twist in the midst of it all. While director Neil Jordan gets noted mostly for the well-done "The Crying Game", to me, this is the best movie he has done, at least that of what I have seen. Michael Caine is also great in a slimy turn against the types of characters he usually plays, and he pulls it off well, but this movie is mainly all Hoskins.
Dan Schultz
Super Reviewer
Many consider this the British Taxi Driver. A bit of a simplification as it deals with a man who gets involved with the underworld of underage girls and prostitution. Mona Lisa is much more a romance set against a backdrop of criminal violence. Bob Hoskins stars in his greatest role ever. Just out of prison, he gets a job driving around a high class call girl. They develop a working relationship of trust and soon Hoskins is asked to track down a missing girl. Hoskins is so perfect in this role. You can easily see him as a gruff and mean gangster, but he adds a vulnerability which serves the romantic angle so well. He also has an endearing childlike naivety. Hoskins has great chemistry with everyone from Michael Caines villainous Mortwell, to his conversations about crime novels with Robbie Coltrane. The soundtrack is ace, with the opening and closing lyrics to Mona Lisa being all about interpretation, which this film certainly asks you to find your own. Director Neil Jordan litters scenes with which allude to fantasy stories, a white rabbit here, performing dwarfs there, etc. The dialogue is funny, the relationships emotional, and the themes disturbing. It's the full package and almost unique in its tone.
Luke Baldock
Super Reviewer
½
Edgy, but in a polite, British sort of way. Bob Hoskins is absolutely spot-on (as usual).
Randy Tippy
Super Reviewer
Mona Lisa Quotes
| | |
| --- | --- |
| George: | Well, she's a woman of substance. She's a lady. |
| Thomas: | I thought you said she was a tart. A tall, thin, black tart. |
| George: | Well, maybe, but she's still a fuckin' lady. |
| | |
| --- | --- |
| Simone: | Being cheap is one thing. Looking cheap is another.That really takes talent.. |
| George: | Some women are whores. Some whores are black. You take what you're given, don't ya? |