Mona Lisa Smile
(2003)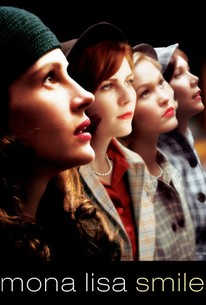 Movie Info
In 1953, a time when women's roles were rigidly defined, free-spirited, novice art history professor Katherine Watson begins teaching at the prestigious all-female Wellesley College--which despite its academic reputation, is an environment where success is measured by 'how well' the students marry. Encouraging these women to strive for a more enlightened future, Watson challenges the administration and inspires her students to look beyond the image of what is, and consider the possibilities of what could be--contrary to popular belief.
News & Interviews for Mona Lisa Smile
Critic Reviews for Mona Lisa Smile
Audience Reviews for Mona Lisa Smile
A nice film that Julia Roberts played outstandingly.
Bethany Murphy
Super Reviewer
Mona Lisa Smile,which is set in 1953/54, tells the story of Katherine Ann Watson (played by Julia Roberts), a teacher who studied at UCLA graduate school who leaves her boyfriend behind in Los Angeles to teach at Wellesley College, a conservative women's private liberal arts college in Massachusetts........ she encourages her students to study to become career professionals,she wants her students to lead the world and not just to live as the wife of somebody. She uses modern art to suggest that they need not conform to female stereotype.
Julia Roberts plays a teacher in the mid-1950's when colleges like Wellesley seem to exist just to prepare young women to be housewives, not independent people. Similar to 'To Sir with Love', the teacher has to not only teach, but inspire her students to strive to do the best they can.
Mona Lisa Smile Quotes
| | |
| --- | --- |
| Katherine Watson: | I don't even want you to like it. What I want you to do is consider it. |
| | |
| --- | --- |
| Joan Brandwyn: | Do you think I'll wake up one morning and regret not being a lawyer? |
| Katherine Watson: | Yes, I'm afraid that you will. |
| Joan Brandwyn: | Not as much as I'd regret not having a family, not being there to raise them. I know exactly what I'm doing and it doesn't make me any less smart. This must seem terrible to you. |
| Katherine Watson: | I didn't say that. |
| Joan Brandwyn: | Sure you did. You always do. You stand in class and tell us to look beyond the image, but you don't. To you a housewife is someone who sold her soul for a center hall colonial. She has no depth, no intellect, no interests. You're the one who said I could do anything I wanted. This is what I want. |
| | |
| --- | --- |
| Betty Warren: | Not all who wander are aimless. Especially not those who seek truth beyond tradition, beyond definition, beyond the image. |
| | |
| --- | --- |
| Betty Warren: | Look at this, mother. She's smiling. Is she happy? |
| Mrs. Warren: | The important thing is not to tell anyone. |
| Betty Warren: | She looks happy, so what does it matter? |