Monarch of the Moon
(2005)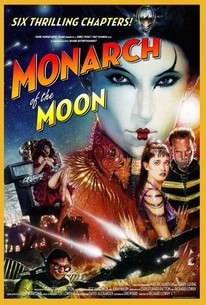 AUDIENCE SCORE
Critic Consensus: No consensus yet.
Monarch of the Moon Photos
Movie Info
World War II action combines with intergalactic adventure in this Dark Horse Comics and Image Entertainment co-production concerning a fighter pilot-turned-winged superhero who takes to the sky in defense of freedom and democracy. As the heroic Yellow Jacket leaps up towards the clouds to defeat the nefarious Dragon Fly and her menacing Japbots, the notorious Nazi Scientist emerges with a Doomsday Ray that threatens to wipe out the entire human race. Just when it seems as if things can't possibly get any worse, the all-powerful Monarch of the Moon emerges with a deadly plan to take control of the entire planet Earth.
Critic Reviews for Monarch of the Moon
Audience Reviews for Monarch of the Moon
½
I am pretty familiar with 1930's serials I am just not sure the filmmakers and screenwriter of this film are. The film is 1 hr. And 40 minutes long, I only could stand about forty minutes of this film. I am not one of those snobby critics that likes to bash lower budget films, in fact I am genuinely sad that I didn't like this film because I wanted to. It's an interesting idea, in fact the 30's serials are very easy to parody. But the comedy and jokes in this film are seen coming a mile away, leaving the viewer feeling bored. The "acting" is okay. The "action" or scenes that are suppose to be intense just feel weak. I could have seen this as a 10 to 15 minute web series, with 4 installments, but as a full length film, it does not have enough of "it" to entertain the entirety of the time.
Marion Ravenwood
Super Reviewer
Monarch of the Moon Quotes
There are no approved quotes yet for this movie.