Monday Night Mayhem
(2002)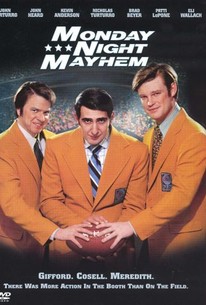 Monday Night Mayhem Photos
Movie Info
Just as Jon Voight's on-target portrayal of controversial sportscaster Howard Cosell) in the 2002 biopic Ali was making the theatrical rounds, actor John Turturro offered his own spin on "Humble Howard" in the made-for-cable movie Monday Night Mayhem. Based on the book by Bill Carter and Marc Gunther, the film chronicles the creation of ABC Television's Monday Night Football telecast in 1970, then continues with the weekly telecast's rapid ascent to the top of the ratings. Reasoning that such a momentous undertaking needed a spectacular "star" lineup in the announcing booth, ABC's aggressive sports director Roone Arledge (John Heard) teams the highly opinionated, irritatingly erudite Cosell with not one but two charismatic ex-athletes, "Dandy Don" Meredith (Brad Beyer) and Frank Gifford (Kevin Anderson). The film makes much of Cosell's open disdain towards his "intellectually inferior" co-anchors and of Meredith and Gifford's reaction to their booth-mate's jibes, and also recreates many of Monday Night Football's highlights, notably Cosell's announcement in the middle of an important game that John Lennon has just been murdered. Monday Night Mayhem originally aired on January 14, 2002, not on ABC (surprise, surprise!) but as part of the TNT cable network's prime time lineup.
Critic Reviews for Monday Night Mayhem
All Critics (6) | Top Critics (2) | Fresh (4) | Rotten (2) | DVD (2)
Monday Night Mayhem [is] a reasonably strong telling of Cosell's rise as an American icon and "MNF" as an entertainment paragon.
Patti LuPone doesn't have enough to do as Cosell's wife, Emmy. On the other hand, we see more than enough to make us cringe at everybody else, especially Chad L. Coleman's O. J. Simpson.
Now here's a film that reads fairly ho-hum, but once it's final credits have rolled you'll agree you've just watched one of the more stimulating and interesting telemovies of recent times
October 17, 2002 | Rating: 3.5/5
Audience Reviews for Monday Night Mayhem
Monday Night Mayhem Quotes
There are no approved quotes yet for this movie.