Summer With Monika (Sommaren med Monika)
(1953)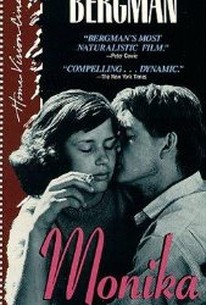 Summer With Monika (Sommaren med Monika) Photos
Movie Info
Harry steals a boat to spend the summer alone on an island with his lover, Monika. But when the couple returns home, their clashing personalities drive them apart.
Critic Reviews for Summer With Monika (Sommaren med Monika)
Audience Reviews for Summer With Monika (Sommaren med Monika)
½
a devastating film. the film is so successfully about so many things; youth, growing up too quickly, not growing up quickly enough, escape, isolation, loneliness, adventure, hope, failure, the mundane, love, responsibility. The themes each hit like a ton of bricks, throwing the viewer for one loop after another. seldom do i go from rooting so much for a character to so little within one film as i did monika, and harry was so effective as the long suffering hero/victim of the story. at the same time, the movie dares you to judge monika, and if you choose to, you at least need to know why. the locations and cinematography were stunning. a wonderful film.
Starts off charming, but the couple's naivete and youthful mood swings eventually turn a bit irritating. Lovely views of small-town Sweden, though.
Eric Broome
Super Reviewer
A chronological retrospective of the work of the late Ingmar Bergman is likely to prove frustrating to begin with, as, of all great artists, he was the classic example of the slow developer. The main interest in re-viewing his early works is in detecting indications of themes that he would develop in the films of his maturity. From the very earliest, "Crisis" (1945), there is little doubt as to his technical skill. He knew exactly where the camera should be placed to maximise the dramatic implications of character and plot, but there were few indications of anything much above average talent. In many ways the two films directed by his mentors, Sjoberg ("Torment") and Mollander ("Eva") to Bergman scripts hang together with greater assurance. Bergman's own films of the 40's and very early 50's are generally discursive and lacking in dramatic concentration. There is some pleasing neo-realist dockland location work in "Port Of Call" (1948) but this appendage decorates rather than deepens a rather dreary little tale of a woman driven by sad circumstances to attempt suicide. "Three Strange Loves" (1949) in a narrative muddle and although he sorted out the portmanteau structure more clearly in "Waiting Women" (1950), only the third tale, that of the married couple trapped all night in a lift, shakes off the yawns of the earlier two by virtue of being the first indication of that oft neglected side of Bergam's talent, his gift for the comic. However this is the perhaps the least important indication of what was to come. In "To Joy" (1950) there is a moment where he defines joy not as happiness but as elation by filming a performance of Beethoven's 9th symphony to powerful effect. Although he comes to a rather different conclusion in the final moments of "Cries and Whispers" (1972), this is a telling pre-echo. The other great moment in these early films occurs in "Summer Interlude" (1950) when the ballerina suffering the loss of her loved one rails against God with much the same ferocity that gives many of the later works their power. But in spite of the deeper issues dealt with in "To Joy" and "Summer Interlude", it is "Summer With Monika" (1952) that must lay claim to being Bergman's first fully realised work. It is a simple story of boy meets girl, both of them in dead-end jobs, he a stacker and delivery boy for a porcelain firm, she a greengrocer's assistant. From the moment of their first meeting in a café where she asks for a light we have that uncomfortable feeling that this is a relationship that is not going to work, he an innocent and she a streetwise pleasure seeker. Both have the need to escape from everyday frustrations and he has the means in the shape of his sick father's boat. For "road movie" therefore read "water movie" although in this case the journey taken offers little chance of escape and can only end in disillusion brought on by hunger, pregnancy and the realisation that neither party can deliver what the other needs, in her case hedonistic pleasure and in his the satisfaction of a loving relationship. In this perfectly formed three-act tragedy the summer escape by boat and return take up the central and longest part. The shorter outer sections chart firstly the couple's initial encounters and lastly the consequencies of being trapped in a dead-end marriage. The journey starts and ends in a studio built street. Possibly it is being simplistic to suggests that Bergman used a a theatrical set deliberately to express entrapment to contrast with freedom of escape - largely location shot - but it certainly achieves this effect. Although there are several minor figures they are without exception central to the development of the central situation rather than extraneous clutter as is so often found in early Bergman. Even the three silent but violent appearances of the shady Lelle are used used to disturb any emotional equilibrium we may have been experiencing just beforehand. This simple tale works through the wonderful acting of the two main protagonists and the assured command of its circular architecture. In a sense is it a minor work but, as the most completely realised harbinger of Bergman's great period, it occupies a very special place.
Cassandra Maples
Super Reviewer
Summer With Monika (Sommaren med Monika) Quotes
There are no approved quotes yet for this movie.