Monkey Warfare
(2006)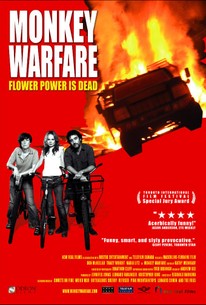 Movie Info
A pair of pot-smoking Toronto bohemians whose dealer has just been busted are shaken from their stoned complacency by a mysterious young radical in director Reginald Harkema's contemporary urban comedy. Dan (Don McKellar) and Linda (Tracy Wright) spend their days scavenging the local garbage dumps and garage sales for undervalued curiosities, and the nights smoking weed and gazing at the stars. When their usually-reliable dealer is suddenly, and unwillingly forced out of business by the authorities, the pair's momentary panic is soon placated by the arrival Susan (Nadia Litz), an enigmatic drifter with some especially potent British Columbia bud. It's not long before Susan becomes a familiar fixture around Don and Linda's home, and as the relationship dynamics between the three gradually evolves into something of a parent/child type of bond, the trio soon discovers that there are many secrets to be discovered.
Critic Reviews for Monkey Warfare
Audience Reviews for Monkey Warfare
A love affair for Parkdale? Pleeeease.
John Ballantine
Super Reviewer
½
A surprisingly prescient film for those Bikes Lanes on Bloor weirdos and a cautionary tale for the G20 douchebags who smashed up my city, Monkey Warfare is a gritty film in which an ex-revolutionary un-couple in Toronto's gentrifying Parkdale neighbourhood reluictantly lets their ingenue pot-dealer into their lives. The result? A lesson in revolution and an awkward love triangle, that, though heavy-handed in places and seeemingly wandering in the early-going, continuously ups the ante and finishes with a wallop. Another solid Canadian film that no one saw. What a shame. Watch this!
Daniel Perry
Super Reviewer
½
Hm what can one say about this terribly bizarre film but exactly just that? Two torontians living off people's garbage to make money and stay alive that smoke waaay too much pot. Once, their dealer gets busted they go looking for other means of getting some weed. Than, Dan meets Susan who is so different from his 'roomate' that he instantly takes to hanging out with her and finds out she 'sells trees.' Things get complicated once 'roomie' finds out and then after sharing some old records and books with this new young Susan...things really take a completely different direction. Not your typical 'run of the mill' comedy about two stoners. Not for everyone, check it out if you like political type movies I suppose.
Bannan instant enigma- just add water
Super Reviewer
Monkey Warfare Quotes
There are no approved quotes yet for this movie.