Monkeybone
(2001)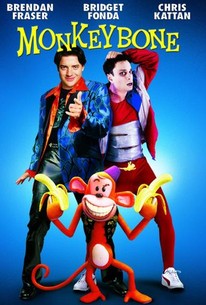 TOMATOMETER
AUDIENCE SCORE
Critic Consensus: Though original and full of bizarre visuals, Monkeybone is too shapeless a movie, with unengaging characters and random situations that fail to build up laughs.
Movie Info
This feverishly energetic comedy combines stop-motion animation and live action from director Henry Selick, creator of The Nightmare Before Christmas (1993) and James and the Giant Peach (1996). Brendan Fraser stars as Stu Miley, a cartoonist who created a randy monkey character called Monkeybone that has taken off in popularity, making him a celebrity. Stu's set to launch a TV series based on Monkeybone and marry his beautiful fiancée Julie (Bridget Fonda) when he's injured in a freak accident that puts him in a coma. He travels to Dark Town, a holding area for the comatose who wait to either regain consciousness or move on to the afterlife with the help of Death (Whoopi Goldberg). Dark Town is also a realm where fictional characters reside and before long Stu has met the vulgar Monkeybone, who travels back to the land of the living to inhabit Stu's body. Aided by Kitty (Rose McGowan), Stu must find a way to reclaim his body and put Monkeybone back in his place before the raunchy primate ruins his charmed life. Monkeybone is based on the cartoon graphic novel Dark Town by Kaja Blackley. ~ Karl Williams, Rovi
Critic Reviews for Monkeybone
Audience Reviews for Monkeybone
½
This movie was originally supposed to based on the graphic novel [i]Dark Town[/i] which you can see from the basic plot setup. But for whatever reasons this notion slowly ebbed away and the project morphed into what we have here. The plot focuses on cartoonist Stu Miley (Brendan Fraser) who gets involved in a car crash which puts him into a coma. Whilst in his coma Stu's spirit (soul?) is sent to 'Down Town', a realm located in limbo populated by odd creatures, imaginary characters and other spirits. A kind of waiting room for people in transit, not yet dead. In Down Town the bizarre inhabitants are entertained by nightmares and Hypnos, the God of sleep, craves more to give himself more power (for some reason). In order to do this, Hypnos tricks Stu into stealing an exit pass from Death. He then sends Monkeybone (a now real infamous cartoon character created by Stu) back to the land of the living and into Stu's body. There Monkeybone will steal and release a chemical substance that gives people (and animals) nightmares, to fuel Hypnos' power. The plot isn't really anything we haven't seen before with strong nods towards Tim Burton classic 'Beetlejuice'. Of course that isn't too much of a surprise seeing as Henry 'The Nightmare Before Christmas' Selick is the director. And of course being a Henry Selick movie you know to expect a visual feast. For those not in the know, Henry Selick is a stop motion director. A slow process usually involving small handmade puppets/models that are moved an inch at a time. This movie being live action with a heavy dose of stop motion animation and practical effects. The effects themselves were quite impressive back in the day, as I recall, obviously these days things don't quite look as slick. Down Town seems to be a carnival themed shanty town with various odd rides, stalls and bars. The whole town is a shadowy place highlighted by fairground lighting and strewn with typically exaggerated buildings. Its certainly very cool to look at but the entire thing is clearly one big set, a bit too obviously so. Other locations such as Death's realm didn't really look as unique or cool as Down Town, and again couldn't help but look totally set-like. But I did like the massive creepy roller coaster and kooky little trains we see controlled by Reapers. Still can't help but feel Tim Burton already did this though. The various creatures characters we see appear to be a mix of mythical, religious and animalistic creations that are rendered in both live action with full bodysuits or stop motion. Obviously being based on a graphic novel and clearly a surreal fantasy nothing is supposed to be realistic looking. Many of these characters do look deliberately tacky (to me) as if based around real mascot type outfits. But there is also a neat little blend of stop motion spliced with some characters, their mouths or legs being stop motion for example. Some characters such as the annoying Monkeybone himself are fully stop motion animated, in this case a monkey voiced by John Turturro. In most cases the fully animated stop motion characters are well crafted and animated, but fail to blend in well with live action characters. Alas the nasty bluescreen monster rears its ugly head a lot throughout (especially in the finale, yikes!). As mentioned above Monkeybone the character is annoying, which is a problem seeing as he is one of the main protagonists, sort of. It just feels far too predictable that Monkeybone would be this rude, obnoxious, sexist, pervert with an annoying high pitch voice. The character just feels like a combination of a [i]South Park[/i] character and Jim Carrey in 'The Mask' (going by what was hot in that era). The character just comes across as an obligatory lazy rip-off from other material. Lets make him edgy, we'll make him a loud, motormouth pervert...ugh! Originality please. Whilst the movies special effects are lovely showcasing great skill, the same cannot be said for the casting. I still cannot fathom why Selick would cast Brendan Fraser in this picture. Nothing against Fraser but his childish comedic antics are terrible. I know the man can act but for some reason he's just terrible here, cringeworthy, much like his other family friendly flicks. Fraser is badly miscast in this dark fantasy and watching him pretend to be a monkey in a human body is simply embarrassing. Then you have the even more bizarre choice of Whoopi Goldberg for Death, really?? This casting literally pulls you out of the movie its so bad. There are so many people who could play a fantastic eerie Death...and they chose Whoopi Goldberg?! I don't even have to explain myself here, its fecking obvious. Yet on the flip side of the coin we have Chris Kattan, a promising star at one point. Gotta give the man kudos here, he plays a dead corpse (possessed by Stu) with a broken neck brilliantly. Sounds easy enough right? Well think again, watch Kattan do his thing and then try to copy it. I was really impressed with his performance in essentially a cameo role. Quirky, amusing, great physical acting and heartfelt. I will overlook the odd subplot where doctors are chasing him down for his organs. This body comes back to life whilst they are cutting out the innards and runs off; yet all they are concerned about is getting their organs. Obviously its a running gag (no pun intended), but its stupid. Then there's the part where Stu (still possessing this cadaver) kisses his wife-to-be! Like did she forget it was a dead body?? For the casual viewer I fear this will not go down too well and I understand why. The plot is weak and unoriginal. Why exactly does Hypnos want more power? What is the actual point of Monkeybone in the movie? The movie is all about the titular monkey but you could easily remove him from the movie. Fraser's character is the typical loner comicbook creator who doesn't want any fame or fortune and loathes the attention from his creation (why???). There are lots of other characters that feel pointless such as Miss Kitty (Rose McGowan). Stu's girlfriend (Bridget Fonda) works for a sleep institute which has developed a chemical to induce nightmares, why exactly??? Also at times the movie does swing from [i]Pee-wee Herman[/i]-esque moments to hellish nightmare scenarios. Clearly there are a tonne of influences going on in this movie, some obvious, some not as much. Various sequences in the movie are based on, or homaged to specific artists whom I've never heard of or seen their work, so I therefore cannot comment. I also do not know anything about the original source material so again I cannot comment on that. All I can say is for anyone who enjoys a dreamlike fantasy that's off the wall with abstract visuals, you may well like this. Anyone who is a fan of Tim Burton's visual style, you may well enjoy this for the surreal sequences. Anyone who appreciates solid stop motion animation, this is for you. Overall though its a bit of a misfire, its not sure what it wants to be.
Phil Hubbs
Super Reviewer
This was an enjoyable ride. It was just funny how the main act was holding his head on with anything he could find. I laughed every time he came up with something new and original to hold it up.
I watched this because of Brendan Fraser. But this was stupid.
Dead Angel
Super Reviewer
Monkeybone Quotes
| | |
| --- | --- |
| Herb: | Come on Stu think of the money we could make |
| Herb: | Come on Stu think of the money we could make. |
| Stu Miley: | I don't care about the money |
| Stu Miley: | I don't care about the money. |