Monogamy
(2011)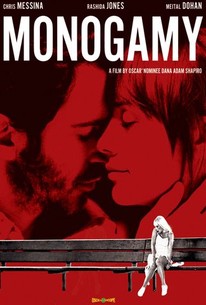 Movie Info
Increasingly anxious about his impending marriage to Nat (Rashida Jones) and thoroughly bored with his day job as a wedding photographer, Theo (Chris Messina) establishes a hobby: he's hired by clients to clandestinely snap voyeuristic photos of them as they go about their days. Things go smoothly until a sexy exhibitionist (Meital Dohan) leads him into an all-consuming obsession. As Theo stalks her day and night, the woman's mysterious public trysts send him reeling, forcing him to confront uncomfortable truths about his sex life at home. MONOGAMY is an acutely observed portrait of a relationship on the brink, a timely tale of masculinity tested by fantasy and fear of commitment. -- (C) Oscilloscope
News & Interviews for Monogamy
Critic Reviews for Monogamy
Audience Reviews for Monogamy
½
In "Monogamy," Theo(Chris Messina), a photographer, and Nat(Rashida Jones), a guitarist, may not have much but they have each other.(Theo also plays the piano but has no wish to get up in front an audience like Nat does.) In three and a half months, they will be married, despite his father giving them grief over the lack of money they make. For Theo, that comes from photographing weddings and a side business where he pseudo-surreptitiously takes photos of clients. The latest is Penny(Meital Dohan) who tends to be more revealing than originally imagined. "Monogamy" gets off to a fine start with its natural performances. It also provides some incisive commentary on all the nonsense and stress that go along with getting married. And then after an improbable plot point, it just runs out of ideas and steam.(Even before this, any scene involving Theo's friends was sucking the oxygen out of the room.) After a while, I was so desperate for any sign of life that I would have happily accepted any cliche you could think of, but no luck there, either. In the end, the movie gets the tone of sexual frustration right while at the same time making the audience extremely frustrated.
Dana Adam Shapiro is best known for the exciting and inspiring documentary, MURDER BALL, for which he received an Academy Award nomination 5 years ago. MONOGAMY is his narrative directorial debut, and was an Independent Spirit Award nominee this year for Best First Screenplay. Although the film features two very appealing leads in Chris Messina and Rashida Jones, I wish I could report that Shapiro's transition to drama is a triumph, but there's just not a lot going on in this film. Anyone who has ever seen BLOW UP will recognize the story of a photographer who becomes unusually obsessed with his subject. Here, Messina is that photographer who is engaged to Jones and begins to doubt their relationship when he becomes more and more fixated on a woman he's been paid to photograph from afar. The film is spare, quiet, and told entirely from the point of view of the male gaze. It's all about how Messina's character sees women and questions his own ability to stay true to the woman he's about to marry. Messina holds the screen well, but is given very little to do here except look at a LOT of people and photos. Jones, does some fine, subtle work here but her character is too conveniently sidelined midway through the film, and never really recovers from it. For a while there, it looked like we were going to participate in her obsessions with men, but it never really comes to pass. I've become such a fan of her work from THE OFFICE, PARKS AND RECREATION, and THE SOCIAL NETWORK. She never overdoes things and always creates credible modern women. One climactic scene in particular, where our leads confront each other, plays out beautifully with the rhythms of how a couple really argues. No big histrionics, just quiet forcefulness. Like so many unambitious indies of this sort, there's a relentlessly probing handheld camera aesthetic, and quiet moodiness....and little else. There's a little surprise twist late in the game which was ridiculously telegraphed early on, so boo hiss to that! Some humans mate for life, but my "relationship" with this heartfelt but shallow film pretty much ended as soon as the credits rolled. A forgettable trick if you will.
Glenn Gaylord
Super Reviewer
Monogamy Quotes
There are no approved quotes yet for this movie.