Monsieur Hire
(1989)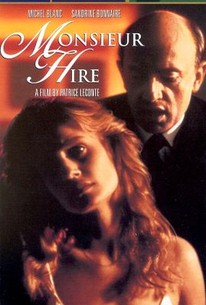 Movie Info
Monsieur Hire (Michel Blanc) is an ageing, truculent loner who indulges in peeping-tomism. Hire worships a beautiful neighbor (Sandrine Bonnaire) from afar. He is vaguely aware that the girl is involved in a recent murder, but this is only a minor setback--after all, Hire himself has been suspected in a homicide case. "Who will do what to whom and when?" is the main question in this adaptation of the novel Les Fiançailles de Monsieur Hire by Georges Simenon, that was previously filmed in 1946 as Panique.
Critic Reviews for Monsieur Hire
Audience Reviews for Monsieur Hire
Monsieur Hire (played by Michel Blanc) is the protagonist and title of this film. The lonely middle aged bachelor finds a nasty habit in spying on his new attractive neighbor, who he falls for. She is Alice, an engaged blonde who has deception flowing through her veins. This is only the smaller portion of the story though, recently a murder occurred in the neighborhood. An unconventional detective is convinced that Monsieur Hire committed the crime. The evidence is stacked against Hire, and if we knew him, we'd accuse him to. That's where the story begins. The film treats this case elegantly, at the same time everyone continues to live their lives, the murder is in the background. Monsieur Hire is eventually gently confronted by Alice, who has noticed him spying on her on two separate occasions. After this point the story has three twists. The first two shouldn't have caught me as off guard as they did, the final one was an epic scene. The film is under 80 minutes long, you realize at the end that most of this was leading up to the conclusion. Before this point I looked at this as a solid romantic thriller, by the time the end came my mood changed. It was possibly the most devastating scene I've ever encountered. It gave me goose bumps, and I remained silenced for a solid amount of time. I was left speechless, this alone made this film leave a mark on me. One of my favorite French films, elegant but unconventional. The rawness of this film, is not to be put in words. 4 stars+
Daniel Dolgin
Super Reviewer
½
*The following short comment MAY contain a SPOILER or two. MAY.....* An aging Peeping Tom finally finds a perm victim, but before long he too ends up as one. While the plot is watchable enough, it isn't executed well enough to be completely drawn into it for its >90 minutes runtime. Sufficient performance by Monsieur Hire, though.
familiar stranger
Super Reviewer
Masterpiece picture. The character Monsieur Hire who wears a dark suit as if he is going to attend a funeral or maybe Hire is paying homage to Alfred Hitchcock, who knows? Hire enjoys listening to classical music, enjoys playing with small mice, feeding the pigeons, and looking at an attractive female across from his window. Hire is a lonely man with not much going on until he becomes a suspect of murder near his flat. Patrice Lacontice's picture isn't all terrible it makes one ask questions as to what is going on, especially when Hire develops a relationship with the woman he's been looking across from his flat. What about the murder? Lacontice doesn't even show anything about it except that a fed is on to him. The woman seems to be an exibitionist who at first is scared when Hire is looking across from her flat, but that fear goes away quickly, she isn't afraid to roam around in her house while he watches, and pretty soon these two will have hidden motives that won't be revealed untill later on.
Monsieur Hire Quotes
There are no approved quotes yet for this movie.