Monsieur Ibrahim et les fleurs du Coran (Monsieur Ibrahim)
(2003)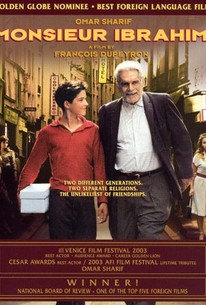 Monsieur Ibrahim et les fleurs du Coran (Monsieur Ibrahim) Photos
Movie Info
A boy from a broken home finds a friend in an insular, spiritual shopkeeper in this period drama from writer/director François Dupeyron. Set in 1960s Paris, Monsieur Ibrahim et les Fleurs du Coran revolves around Momo (Pierre Boulanger), a young man who lives alone with his father in the bustling Rue Bleu district. Still smarting over the separation from his wife and other son, Momo's dad neglects his son in ways both minor and major, to the point where the teen spends most of his time out of school alone and isolated. He finds an unlikely ally in Monsieur Ibrahim (Omar Sharif), a Muslim shopkeeper who spends most of his days behind the counter of his store reading the Koran. As time passes, Momo and Ibrahim begin to bring each other out of his respective shell, sharing a series of everyday adventures, culminating in Momo's indoctrination into Ibrahim's faith. Monsieur Ibrahim et les Fleurs du Coran played the Toronto and Venice film festivals; at the latter, Sharif was given a lifetime achievement award for this and the rest of his career's work.
Critic Reviews for Monsieur Ibrahim et les fleurs du Coran (Monsieur Ibrahim)
Audience Reviews for Monsieur Ibrahim et les fleurs du Coran (Monsieur Ibrahim)
Sweet movie. Nice, easy pace. Heartwarming, and produces just the right amount of smiles. I like these kinds of movies....
Cynthia S.
Super Reviewer
"Mister Ibrahim and the Flowers of the Qur'an" is a French movie based on a book and a play by Éric-Emmanuel Schmitt. The award winning drama (César Award, Best Actor 2004: Omar Sharif; Chicago International Film Festival, Silver Hugo for Best Male Performance 2003: Pierre Boulanger; Venice International Film Festival, Audience Award, Best Actor 2003: Omar Sharif; nomination for the 2004 Golden Globe for Best Foreign Language Film) nostalgically explores life of a working-class Paris neighbourhood in the 1960s through growing of Moїse Schmidt (Momo), a young Jewish boy. He is fascinated by the elderly Turkish man, Ibrahim Demirci, who owns a grocery store across the street where Momo often shoplifts. Their relationship develops and soon Momo feels closer to Ibrahim than to his father... I would not like to spoil the watching of this heart-warming movie and I'll keep the rest of the story as a secret... :-) Impressive film which so realistically manages to takes us to the world where friendship is possible and natural between a typical teenaged boy, trying out his masculine prerogative (simultaneously unsure of what he wants) and older charismatic sage who is plainly desired father figure in this sentimental tale. I hope you'll have a chance to enjoy it!
½
"Dictionaries always use words you don't understand."
Monsieur Ibrahim et les fleurs du Coran (Monsieur Ibrahim) Quotes
| | |
| --- | --- |
| Ibrahim: | To find out if a country is rich or poor, look at the bins. If there are bins and no rubbish, it's rich. If there's rubbish by the bins, it's neither rich nor poor... it's touristy. And if there's rubbish but no bins, then it's poor. |
| | |
| --- | --- |
| Ibrahim: | They spin around their hearts because God is there. |
| | |
| --- | --- |
| Ibrahim: | Slowness is the key of happiness. |
| | |
| --- | --- |
| Momo: | Arab means open from 8 til midnight, even Sunday. |