Monsieur N.
(2004)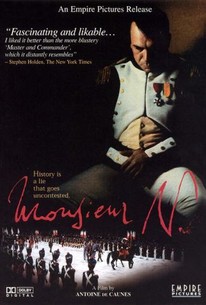 TOMATOMETER
AUDIENCE SCORE
Critic Consensus: Fueled by performances as polished as its visuals, Monsieur N. is a flawed yet largely absorbing look at an imagined chapter of Napoleon's exile.
Movie Info
After his defeat at Waterloo, Napoléon Bonaparte was exiled to the south Atlantic island of St. Helena, where he died a few years later. Or did he? Telling his story through a British lieutenant assigned to watch over Napoléon, film depicts the sordid antics of the inner circle of French Army officers who followed the emperor into exile and implies that Napoléon escaped St. Helena so cleverly that his escape has remained undiscovered to this day.
Critic Reviews for Monsieur N.
Audience Reviews for Monsieur N.
½
[color=darkolivegreen]So, what is the fine line between suicidal and self-destructive behavior? The excllent, provocative new film from Germany, "Head-On" wants to have a few words on the subject. Basically, the movie starts out with Cahit(Birol Unel), a Turkish immigrant who collects empties at a night club, having a wild night out on the town, followed by driving his car straight into a wall. Since there were no skid marks, the doctors surmised that he was trying to kill himself and confine him to a mental hospital. There, a young woman Sibel(Sibel Kikelli) overhears his surname and like her he is of Turkish descent and immediately goes over to him and proposes marriage.(Which breaks the land speed record in this category and also would provide a perfectly good story for any grandchildren as to how their grandparents met.) All he is interested in is alcohol; she is interested in living a new life away from her restrictive parents and having lots of wanton sex and could use a husband to provide a cover. Cahit and Sibel would be nothing more than roommates. Such is the place where lousy sitcoms are born but "Head-On" excels by not going for easy laughs and not seeking to take a sentimental view of these difficult characters. The film is occasionally interrupted by a real live Turkish chorus. The last image in the film is of them taking a bow. It is well deserved.[/color] [color=#556b2f][/color] [color=darkorange]Nearly all of the Luis Bunuel films I have seen until now have been from his later period(60's to 70's) where he is specializing in surreal imagery like Belle du Jour, That Obscure Object of Desire, The Discreet Charm of the Bourgeoisie and The Milky Way. I had read about some of the films he had made in Mexico but Los Olividados(1950) is the first of them that I have seen. Basically, it is about a group of street urchins in Mexico City(even though the film makes it clear it could take place anywhere). Jaibo, a charismatic sociopath, has just escaped from a reform school. Some of the impact of this film has dulled over the years but it is still a very good movie about the impact of poverty on a younger generation and that kindness can somtimes only be handed out by those who can afford to. Oh and Bunuel, still manages to get a couple of vivid dream sequences into the film.[/color] [color=#ff8c00][/color] [color=indigo]"Monsieur N." starts out with the exhuming of Napoleon Bonaparte's remains on St. Helena in 1840, 19 years after his death.(Perhaps, they were just checking to see if he was still dead.) The movie flashes back to Napoleon's final imprisonment on the island of St. Helena in the South Atlantic. "Monsieur N." wants to speculate on possible conspiracies as to the causes of Napoleon's death but it is not interesting or imaginative enough to succeed on that point. It does retain some interest as to the relationship of the imprisonment of the former emperor who perhaps never considered himself to be a prisoner versus the English who most certainly did. There is a distraction concerning what can only be called a schoolboy crush. It is a shame that "Monsieur N" does not really come alive until its conclusion because I think it could have been quite a bit better.[/color]
Monsieur N. Quotes
There are no approved quotes yet for this movie.