Monster
(2004)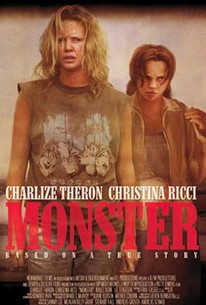 TOMATOMETER
AUDIENCE SCORE
Critic Consensus: Charlize Theron gives a searing, deglamorized performance as real life serial killer Aileen Wuornos in Monster, an intense, disquieting portrait of a profoundly damaged soul.
Movie Info
Model-turned-actress Charlize Theron leaves her glamorous image behind for this gritty drama, in which she plays a disturbed prostitute who becomes a serial killer. Aileen Wuornos (Theron) was a woman who survived a brutal and abusive childhood in Michigan to become a thick-skinned but emotionally damaged adult. Homeless most of her life, Wuornos subsisted by working as a street prostitute; later, when she was in Florida, down to her last five dollars and pondering suicide, she stopped into a bar for a beer. There, Aileen met Selby Wall (Christina Ricci), a woman in her early twenties who had been sent to live with relatives after her Christian parents became aware of her lesbian lifestyle. Selby is immediately attracted to Aileen, and while Aileen tells Selby she's never been in a lesbian relationship, she soon finds herself equally infatuated with her. Selby runs away from her family and moves into a cheap hotel with Aileen, who initially pays the bills by hooking. However, as their money runs low and Aileen finds herself unable to land a regular job, tensions mount between the two. One night, after a john attacks her, Aileen pulls a gun and kills the man. Although her first murder can be categorized as self-defense, Aileen's loathing for the men who pay her for sex becomes so extreme that she begins killing her customers regardless of their behavior. Meanwhile, Selby slowly becomes aware of the full extent of her lover's instability and the bloody consequences of her actions. Monster was inspired by the true story of Aileen Wuornos, whose life and death was chronicled in two documentaries by filmmaker Nick Broomfield, Aileen Wuornos: The Selling of a Serial Killer, and Aileen: The Life and Death of a Serial Killer. ~ Mark Deming, Rovi
News & Interviews for Monster
Critic Reviews for Monster
Audience Reviews for Monster
Patty Jenkins does a bang up job writing and directing this thumbnail bio based on the eye popping true story about a hooker turned serial killer. Charlize Theron really gets into the skin of a soul abused for years and violently desperate for any kind of real affection, and Christina Ricci so inhabits the role as the vessel of that affection that I began to hate the truth depicted in their relationship. Overall a visceral film experience, not for the faint of heart.
Kevin M. Williams
Super Reviewer
Driven heavily by the milestone acting of Charlize Theron and Christina Ricci, "Monster" is a showcase of talent for many Oscar seasons to come. Actresses all around the world should look up to Charlize Theron in this film, not to say that every actress should play this role, because films would be hard to watch if more were like this. This is the type of film I would recommend to someone if they are looking for brilliant performances over an engaging story. Not to say that the story is not terrific, because it is, but the way that it is presented, is unnecessarily brutal. It is a very graphic film, so I recommend with caution. The writing is very good in this film, the sets feel perfect for the tone of the film, the director definitely takes his time in the moments that count, and the casting of Charlize Theron, again, is beyond out of this world. It is a scary film to watch at times, but it is a perfect portrayal of this true story. It's not a perfect film overall, but it is a great one! I definitely recommend it, but please watch with a strong stomach.
Amazing performances by the two leads makes this a film you'll never forget.
Graham Jones
Super Reviewer
Monster Quotes
| | |
| --- | --- |
| Aileen Wuornos: | You'll never meet someone like me again. |
| | |
| --- | --- |
| Aileen Wuornos: | So I made a deal. I said God I gotta spend this 5 bucks but when it's gone so am I so, if you got something for me in this life you better bring it on, and there she was. |
| | |
| --- | --- |
| Aileen Wuornos: | I loved her. And the thing no one ever realized about me or believed was that I could learn. I could train myself into anything. People always look down their noses at hookers. Never give you a chance cause they think you took the easy way out. When no one could imagine the will power it took to do what we do, walking the streets night after night. Taking the hits and still getting back up. But I did and they'd all miss out. Cause they had no idea what I could discipline myself too and I believed in something - and I believed in her. |
| | |
| --- | --- |
| Aileen Wuornos: | People always look down their noses at hookers. Never give you a chance, because they think you took the easy way out, when no one could imagine the willpower it took to do what we do. Walking the streets, night after night, taking the hits and still getting back up. |