Monster a-Go Go
(1965)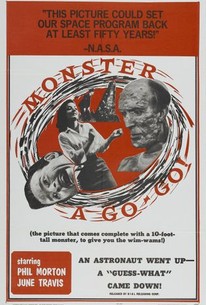 AUDIENCE SCORE
Critic Consensus: No consensus yet.
Movie Info
This sci-fi fantasy may well be one of the worst movies ever made and should provide great fun for lovers of kitsch and camp as it follows the exploits of an accidentally irradiated astronaut Henry Hite who mutates into a 10-foot tall rampaging monster after his last mission goes horribly awry. The only ones who can stop the destructive mayhem are a talented and courageous team of go-go dancers. The film was helmed by H.G. Lewis, who simply added footage to the half-finished film, Terror in Halfday, which he had purchased to help him make a second-billed feature to go with Moonshine Mountain. Even Lewis didn't like this film and used the pseudonym Sheldon Seymour on the final credits.
Critic Reviews for Monster a-Go Go
All Critics (3) | Fresh (0) | Rotten (3) | DVD (1)
Its notoriety extends beyond just the usual dismissals as one of the worst films ever made, as bad-movie buffs place it in the same, uh, exalted pantheon of immortal atrocities like Plan 9 from Outer Space, Robot Monster and Manos: The Hands of Fate.
No go-go.
October 6, 2005 | Rating: 0/5
Audience Reviews for Monster a-Go Go
Nonsensical story atrociously acted not with production values not even worthy of a grade school project. Just awful on every level.
An astronaut returns from space as a mutated giant. ...or does he?? I'm sure I would have enjoyed this one more if I'd caught the MST3000 version (there is an MST3000 version, right?). As it is, Monster A Go-Go is a study in how NOT to make a movie. Everything is bad in this one, and I do mean everything. Bad acting, bad directing, bad editing, bad lighting, bad sound, bad score, bad wardrobe, bad writing, There are three or four brief moments that are unintentionally funny, otherwise your time would be better spent watching paint dry. Currently, there are about a hundred people on flixster that admit to having seen this film. Those self-deprecating souls deserve some kind of award for sacrificing an hour of their lives so that others won't have to suffer the same fate.
Randy Tippy
Super Reviewer
Does this movie have anything to do with a monster? Presumably, but we're not sure. Does this movie have anything to do with go-go dancers? Not really, no. What's the plot? We're not sure. This is the worst movie of the sixties, I think, maybe even the worst movie ever made? It's on imdb's list of worst movies, and if you've seen it you know why. If you really want to see a bad movie, watch this one.
Monster a-Go Go Quotes
There are no approved quotes yet for this movie.